In Enchanted Spring by Peggy Gaddis, Lynn Carter is back home from studying in the city to be secretary. She is excited to return to her hometown and be with family, but she wants to surprise them. So when she arrives at the train station she is waiting for her friend and neighbor to pick her up when she meets up with Wayde McCuller. As far as she can remember, he always comes to stay at the family state he inherited for a few mandatory months a year. But he does not interact with anyone in town and seems to bring people over just to have parties there.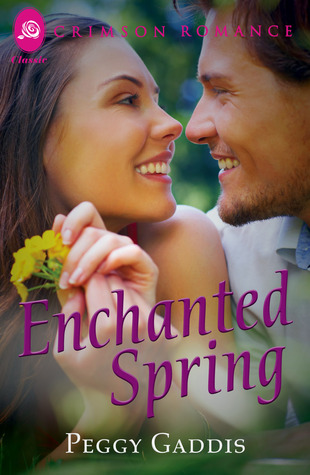 When Wayde saw Lynn at the train station, he was attracted to her beauty. Only she did not seem like a local, and when he approached her she immediately made it obvious that she considered him a snub and resented him for his scorn towards her beloved hometown.
But when a towns persons beloved animal is killed on the McCullens land, Lynn knows that she has to do something about it. At first she asks her father if there is any way to prohibit hunting, but as judge, her father knows that would be just daring them to do it even more.
So Lynn approaches Wayde with her plea for help. But Wayde knows how the town people don't really like him, and if he puts up any signs saying that they cannot hunt there anymore that it would just make matters worse for him. And even if Lynn believes that Wayde cannot be bothered, there is more to him than meets the eye, and he will try to help, but he has to find a better way that will ensure everyone's safety.
As much as Lynn seems to hate Wayde, there is a small line between love and hate, and when a friend points it out to her she can't help but analyze her feelings a little closer, if a little unwillingly.
Enchanted Spring by Peggy Gaddis is a fast and sweet read. I easily read it in one sitting and can tell you that I really enjoyed it and I hope you do too.
Book Info:

October 21st 2013 by Crimson Romance | Classic Collection
Lovely chestnut-haired Lynn Carter refused to be impressed by Wayde McCuller's wealth and darkly handsome looks. She thought him a snob and resented his scorn for the hometown she loved. Yet somehow Lynn found it impossible to avoid constant encounters with the arrogantly charming young man. And when the town was rocked by a shocking incident that left Wayde in serious trouble, Lynn felt compelled to rush to the defense of the man she'd thought she hated. Could it be that her anger toward Wayde masked deep feelings of love? Was she headed for happiness—or heartbreak?