My Secret Fantasies by Joanne Rock is a steamy, original romance about love at first sight, ambition, and working through unpleasant past experiences in order to create a blissful future.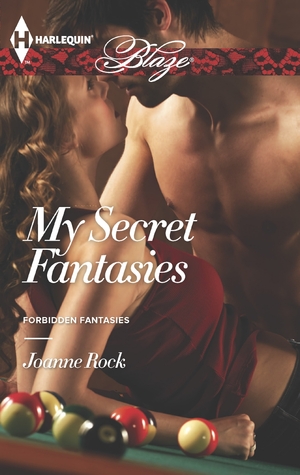 Nebraskan native and hopeful actress Miranda Cortland decided to leave the farm country behind when she to moved to Los Angeles at the ripe old age of eighteen. She needed to get away from her caustic parents, her nasty older sister Nina, and sociopath of an ex-boyfriend Rick. Rick, a truly sneaky SOB, took her virginity, demeaned her sexually and then married her sister. To this day he finds ways to taunt her and Miranda never feels completely safe from him.
After five years of being an actress in Hollywood, Miranda rose to fame when she won the grand prize on a reality TV show. Now she has fans and the press hounding her. More than being an actress, she has grown to love her part-time job as a waitress and cook in a local tearoom. Needing to find peace away from the paparazzi, she decides to write an erotic novel as therapy to her wounded soul and move north to open her own tearoom. She finds the perfect place online and leaves Los Angeles with her winnings and all the personal stuff she can fit into her car.
Hot, sexy, Thoroughbred horse-breeder, Damian Frasier, is excited about selling the farm-stand on his vast property. He is hopeful that converting the farm-stand into a tearoom will bring in some additional high-end clients, so that all his businesses tied up with the ranch he owns will remain profitable and be extremely successful. Damian also understands the hardships of fame, being the son of an awarding winning director. He sought solace by finding his niche through Thoroughbred breeding, training and rehabilitation.
There is an instant attraction between Miranda and Damian and Miranda uses it in her book writings. Unfortunately, Damien is not thrilled about Miranda's fame and popularity. He believes it will hurt his overall plans for the ranch and is dead-set on selling the farm-stand to her. However, she is able to innocently worm her way into his heart and his life. In a very short time, they become more than friends. Eventually, there is forever in their future.
To begin with, this book opens with an erotic BAM, which sets the entertaining tone for the rest of the book. I can honestly say that I was completely mesmerized by the prologue. The story itself is unique and interesting, with well described scenery and characters. Miranda and Damien are likeable, in addition to having a connection that is magnetic. The sex scenes are hot and Ms. Rock's ability to create meaningful lust is very effective. I loved the somewhat predictable ending, because it was totally my cup of tea.
Book Info:

Publication: December 17th 2013 by Harlequin Blaze (Book 782)| Forbidden Fantasies
Fantasy come to life…
All I wanted was to escape the media frenzy I left behind in L.A. and open a cute little shop on the Sonoma Coast. Simple, right? But Damien Fraser—the hunky property owner—isn't exactly thrilled about my reality-TV-star status. Still, I'm pretty sure that all he needs is a little creative convincing…and I've learned I can be very creative.
I started writing a naughty novel, and with every sexy scene I write, things between me and Damien get really hot. Now the hero in my book is starting to look more and more like Damien, and I'm well on my way to becoming my brazen sexpot heroine. But when my real life and my fictional life collide, my fantasies just might cost me all of my dreams….