Erik by Sawyer Bennett is the second book in the Arizona Vengeance series. Both Erik, a hockey player on the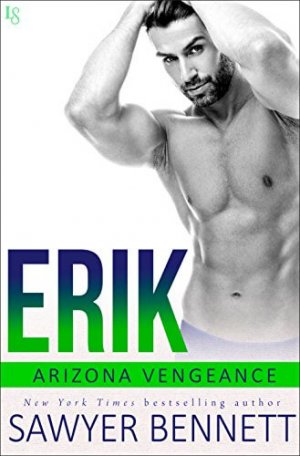 Vengeance team, and Blue, a flight attendant for the team, were introduced in the previous book in the series and I had been looking forward to finding out more about why Blue was so cold towards him.
Erik is a playboy, flirting with anyone he wants. When he attempts to do so with Blue, however, she shoots him down. This intrigues him, as he's used to women falling for his charm. When he discovers Blue also spends time with her disabled brother, her finds her even more interesting and wants to learn more about her. Blue has her reasons for not wanting to get involved with Erik, but as he worms his way into not only her life, but her brother's as well, can she put her issues with Erik aside and move forward with him?
Erik hasn't had a good role model for relationships and he's never wanted one until Blue. I liked how he was willing to put in an effort to thaw her attitude towards him. Once he realizes why she was so angry at him, he admits his faults but also admits he's grown up and and is no longer the immature person he once was. I loved his interactions with Blue's brother and the fact that he spent time with him not only because of Blue, but because he genuinely wanted to hang out with him and make him happy.
Blue carries around a lot of guilt because she had left her brother behind to go to school. Now that she's responsible for him, she's determined to make up for leaving him the first time. I thought she was too hard on herself. When she had left, she had every right to have a life of her own instead of taking care of him like she had been doing since she was a child. Erik is more than willing to help her realize that she can't live her life for her brother, she has to live it for herself.
Blue and Erik have great chemistry together. They have some serious moments but there are also plenty of light-hearted ones as well. Readers will also get to see more of the Erik's teammates. I liked how they stuck up for Erik, but they weren't afraid to tell him when he was wrong and lend their support to Blue.
While Blue and Erik were introduced in the previous book, this works as a standalone. If you haven't read the previous book, you will be fine to just jump in with this one. There are some references to things from the first book, but enough background is provided to prevent readers from feeling like they're missing something important.
Erik has the perfect blend of romance, humor, drama, and steam. If you enjoy hockey romances or second chance romances, you should consider giving Erik a read.
Book Info:

Publication: November 5, 2018 | Loveswept | Arizona Vengeance #2
I'm having the time of my life with my new brothers on the Arizona Vengeance. We may be an expansion team, but after notching some big wins, the entire league knows to watch out for Erik Dahlbeck. That's me.
The only person who doesn't seem to think I'm so great? Blue Gardner, the hot-as-f*** flight attendant on our team plane. I sure wouldn't mind joining the mile-high club with her, but besides bringing me lukewarm coffee, she won't give me the time of day. Whatever I did to rub Blue the wrong way, my teammates think it's hilarious. After all, we're used to women flocking to us. #puckbunnies
When I run into Blue back on land, I'm shocked to learn how she spends her time off: taking care of her handicapped brother. There are layers to this girl I never imagined, layers I can't wait to peel away. And that's a new feeling for me.
But first I've got to find a way to melt that ice-cold stare. Because as much as I try to pretend I don't care what Blue thinks of me, how can you not care when you're falling for someone?