In ER Doc's Forever Gift by Sue Mackay, all Sienna Burch has ever wanted is somewhere to call home after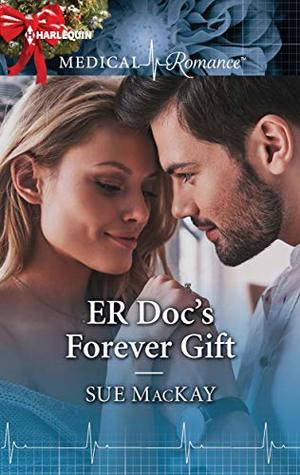 years of being dragged from place to place by her parents and maybe find her perfect man. That is, if he exists. Too bad her new neighbor, Harrison 'Harry' Frost, is the opposite of what she's looking for. Otherwise, she'd take a chance on him, especially when they have such intense chemistry. Yet, the more time she spends with Harry, the more Sienna finds herself falling for Mr. Wrong. Will Harry be able to convince Sienna that he's her Mr. Right or will he end up breaking her heart?
=A small smile lifted one corner of his mouth. "Right now I'm the doctor, you're the patient, and I get to make the diagnosis, starting with doing the ABCs."
Her airway was fine, the proof in her relatively easy breathing when pain wasn't interfering. "Might have known you'd be bossy."
His smile hit her hard. "It goes with the territory and stroppy patients."
What an interesting and entertaining read Ms. Mackay has delivered in this medical romance where the main characters have had tough pasts that make them the wonderful characters they are, as Sienna finally searches and finds the stability she needs in her life while the hero is a wanderer determined never to settle in one place. Will they find a way to be together when the hero wants the opposite kind of life to the heroine?
The way this story started had me liking the heroine immediately, as her job has its good and bad days and it's understandable why she reacts the way she does to the hero and what he's doing. Will the hero give the heroine what she wants in the moment where they first meet? Moreover, the heroine goes through a lot in this story and it's understandable why she does her best to protect herself after everything she's been through in her past since Harry is the kind of man she could very easily fall in love with. Really, she's resilient, courageous, hard-working, kind, caring and I liked that she gave the hero a chance, even though they want different things in life and he could break her heart. While the hero, I loved his confidence, his need for honesty, his determination to get to know the heroine and his determination to win her over because there's something about her he can't resist. Certainly, she's a challenge and it was interesting to read whether he'd win her over or not.
Whipping his hand away, he shoved both in his pockets and stared out the window. "I don't do permanent."
"One kiss and you're running from commitment? Excuse me, but that was never on offer."
"There's something between us. It's been there from the night you walked up my drive. I don't usually stall, but I don't want to hurt you, and I think that would be too easy to do."
Overall, Ms. Mackay has delivered another really good read in this book where the chemistry between this couple was strong and tangible from the moment they meet; the romance was delightful and had me loving these two together because it shows how good opposites can attract; and the ending had me loving the hero's determination to prove to the heroine that he wants forever with her. Really, he makes a big decision that shows he's ready to leave the past behind and fight for their future together. However, it was the epilogue that wrapped this story up nicely, as Sienna and Harry are so good together and deserve every bit of happiness they've found. I would recommend ER Doc's Forever Gift by Sue Mackay, if you enjoy the enemy to lovers trope, the mysterious strangers trope or books by authors Charlotte Hawkes, Amalie Berlin, Tina Beckett and Annie O'Neil.
Book Info:

Publication: December 1st, 2018 | Harlequin Medical |
All she wants for Christmas…Could be right next door!
Sienna Burch finally has the stability she's longed for and a home to call her own. And as tempting as her new neighbor, sexy ER Doc Harry Frost, is, Sienna knows he's bad news! Harry never stays anywhere long—he's the opposite of what she needs. But as passion sizzles between them, beneath the Christmas lights, everything begins to change…