In Ethan's Daughter (Templeton Cove #7) by Rachel Brimble , Leah Dixon isn't afraid to give reclusive best-selling author Ethan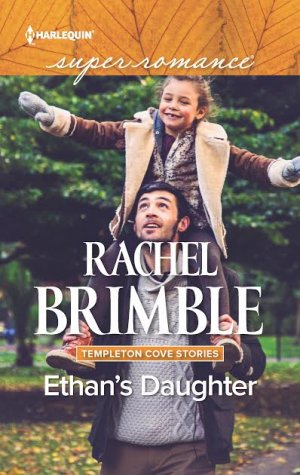 James a piece of her mind when it comes to his daughter's safety. However, when the trouble Ethan is facing lands on her doorstep, Leah is determined to help Ethan, even though he doesn't want anyone's help to deal with the danger he's facing because of his ex. Will Leah and Ethan be able to find a way to stop what's happening, or will they lose their shot at happy ever after?
"I can't believe all that's happened since our chance meeting."
"It is pretty surreal."
"What were you thinking just now? It's the first time I've seen distrust in you since we met. Not just with me. With anyone."
"It wasn't distrust of you. It's distrust of myself. I tend to rush to people's rescue. Do everything I can to bring some peace to people's lives after an accident or tragedy."
This series has such wonderful characters and Leah and Ethan were a fantastic addition, except there were moments where I got frustrated with the heroine, as she didn't know when to back off. Certainly, her job as a nurse causes her to be protective of those that aren't strong enough to be able to protect themselves from harm, but Ethan had his reasons for how he wanted to handle the situation he found himself in. Will she respect his wishes? However, in saying that, I really enjoyed the growing relationship between this pair and everything these two go through on their journey to happy ever after.
The way this story started had me liking the heroine straight away, as she does the right thing by Ethan's daughter and then does her best to discover the truth from Ethan about what's happened to him. Will he tell her the truth? Furthermore, the dialogue was fascinating due to the main characters back stories, which has made Ethan uninterested in forever after. His ex is a real piece of work that only seems to care about herself. Will Leah be able to make the hero realize that she's not going anywhere? That she does fight for what's important. I also liked the bond he shared with his daughter and that he would do anything for her, even if it means protecting the young girl from her own mother.
"Why didn't you choose to stay closer to your mum, so she could help out when Anna left? Why Templeton?"
He shrugged. "I wanted to raise Daisy the best I could alone, and the Cove felt like the right place to do it."
"Leaning on family isn't something to be ashamed of you know." She glanced at him again. "I would think every parent needs a support system."
While the heroine, she's strong and brave and I liked how she did what she thought was right, even though she knew Ethan might get upset with her. I also liked how kind and caring she was and that she would do anything to make her patients feel cool, calm and collected, even if they have the most painful of injuries. Yet, what I did find frustrating is how much pressure she put on Ethan to do the right thing for himself and for his daughter. Certainly, the threat was palpable, but why couldn't she see things from his perspective?
Overall, Ms Brimble has penned a wonderfully sweet, fast-paced, thrilling read in this seventh book of her Templeton Cove series where the chemistry between this pair was intense and the ending of this story had me concerned for the main characters. Will Ethan be able to keep Leah safe? However, it was the epilogue that wrapped this story up nicely, because after all that Leah and Ethan have been through, he had an important question to ask her. Would she accept? I would recommend Ethan's Daughter by Rachel Brimble, if you enjoy the opposites attract trope or books by authors Claire McEwen, Kristina Knight and Sharon Hartley.
Book Info:

Publication: August 8th, 2017 | Harlequin SuperRomance | Templeton Cove #7
There's safety in solitude isn't there? Single dad and best-selling thriller writer Ethan James has no problem being Templeton Cove's most famous recluse until a surprise visit from the past plunges him into a real-life crime drama just as feisty nurse Leah Dixon barges her way into his world.
Ethan's first priority is to protect his daughter. His second priority is to keep Leah out of this dark web and that means out of his bed. Except Leah isn't going anywhere; she's afraid little Daisy is in danger. Ethan couldn't live with himself if anything happened to Leah but pushing her away may be even harder!