Even Better Than the Real Thing by Melanie Summers: Finely has put in all those long hard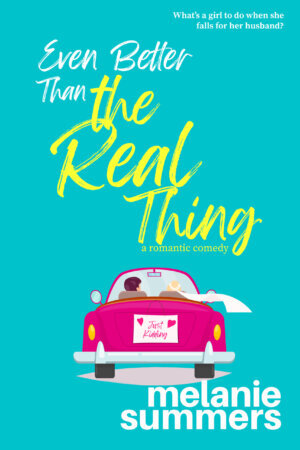 hours to achieve her academic dreams now the final step is getting her Phd, but in order to be accepted into the program Finely needs to get unlimited access to her grouchy boss's private art collection. Which is proving to be a challenge all on its own. But just maybe there could be a way for Finely to get access to the art collection while helping Hayden get something that he desperately wants… the only challenge now being can Finely manage to keep her feeling for Hayden completely platonic?
Lord Hayden Stuart needs to get full access to his families estate and his Earldom but in order to do so he needs a wife, the only problem with this being the fact that Hayden definitely does not want to get married! But when an unlikely opportunity arises for Hayden to get access to his estate he doesn't think twice about marrying Finely, after all its all just for show, right?
Even Better Than The Real Thing was just everything that I could ask for in a sizzling cute fake turned real romcom. The entire marriage of convenience trope has always been a firm favourite of mine and Summers has only made me love this trope all the more!
Finely was such a cool leading lady, I loved her positive attitude and her passion for art. It was such a treat getting to see her falling in love with Hayden even before she realised that it was happening. As for our hottie Earl Hayden, well it was pretty hard not to instantly love this guy. There was just something about his grumpy, recluse act that made getting to see the real softie all the more sweet. I really enjoyed getting to unwrap Hayden's character and gosh did my heart hurt for him once we learned about his past.
The chemistry between Hayden and Finely was HOT! I just loved getting to see these two slowly build their relationship from friends to lovers. I really liked getting to see both of them getting help and support from their friends as they tried to figure out their feelings. Hayden's best friend Caleb and his wife Ava were just hilarious, I loved that they were there to help Hayden realise that he is worthy of getting love and giving love.
Even Better Than The Real Thing was such a cute fake turned real romcom that is a definite must read!
Book Info:

Publication: April 7, 2022 | Pub: Melanie Summers |
You know what's great about applying for an art history PhD program at one of the world's most prestigious universities? I get to study what I love and land my dream job at the end of it. You know what's not so great? Being told I'll only get accepted to the program if I gain access to my aloof, uppity, super grumpy boss's private art collection.
As it turns out, said boss—a one Lord Hayden Stuart—needs to get married to inherit his late father's estate and earldom. And if there's one thing Hayden Stuart is never going to want for real—it's a wife.
So, we strike up a deal: I marry him and go live at his castle, where I'll have unlimited access to his collection, he gets his earldom, and when the estate is settled, we part ways forever.
Win-win, right?
Wrong.
I may have fooled myself into believing I wasn't risking my heart, but there's one huge problem: I'm definitely falling for him. He's not just another man. He's THE man—an irresistibly good-looking, in-control, expensive-suit-wearing man who makes all the other men look like little boys. And the more time I spend with him pretending to be his wife, the more desperate I become to believe the lie.
But he's never going to fall for some lowly PhD student. So what if at the wedding he looked at me as if I'm the only woman in the world, and kissed me like he's shipping off to war in the morning? It doesn't mean anything.
Or does it?
Because the more we're together, the more I realize that, even though we're from totally different worlds, we have a lot more in common than I ever could have imagined.
Now all I have to do is convince him he really does want a wife…