Every Little Kiss by Marina Adair is book two in the Sequoia Lake series, but can certainly be read as a standalone. Although, it's worth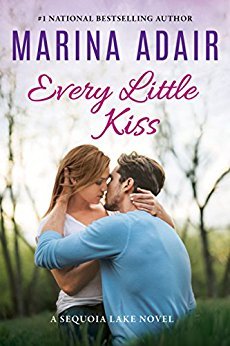 mentioning that Marina Adair excels at contemporary romance and all her books are must-reads. As for this specific book, this author definitely pulled out all the stops for this one. So many feels! The emotions that went along with this book were written beautifully.
Liv Preston is a single mother who is trying to make her son, Preston, happy, after the trauma he went through. Preston keeps to himself, but a certain super dog just might be the key. Too bad, that the K-9 belongs to her handsome neighbor who is bringing out feelings in Liv that she thought were buried.
Ford Jamison is the head of Reno's K-9 search rescue and believes in keeping families together. He knows he needs to stay away from Liv, but it's not that easy. Liv and Preston are special and Ford, made a promise two years ago, that he needs to see through. The attraction between Liv and Ford felt real and the feelings on each side, had the right amount of growth and sincerity that made my heart warm. But with any relationship trust is important and Ford is carrying around a secret. When Liv finds out Ford's secret, she has to relive one of the worst moments of her life and the betrayal that she feels, has the ability to break what's left of her heart.
I adored Liv as a heroine. She's smart, caring, and determined to put her son first. Ford is sexy, strong, and sees Liv for the woman she is. They both see each other on a deeper level and it provides for a sweet and heart-warming romance. For readers who enjoy small town romances and love a good happily ever after, definitely pick up Every Little Kiss.
Book Info:

Publication: July 18th 2017 | Montlake Romance | Sequoia Lake #2
There's nothing that single mom Liv Preston won't do if it means making her six-year-old son smile again. After a heartbreaking two years, her little family is due for some fun in the sun. She just didn't expect to find it in the big, rugged, Search and Rescue hero next door—who shows her just how exciting, and sexy, life's adventures can be.
As head of Reno's K-9 search division, Ford Jamison knows what it takes to make life-and-death decisions on the fly. He doesn't hesitate, doesn't do regrets, and has never doubted his instincts—until he makes a promise that turns his world upside down. Desperate for redemption, he returns to Sequoia Lake, only to find himself face-to-face with his past…and the one woman he can't have. Not when his secret would destroy her—and everything she holds dear.
For Liv, finding love once was a gift. Finding it twice seems impossible, until the moment Ford's lips meet hers. Love doesn't always come easy, but when it's right, it's worth fighting for…