In Everything After by Jill Santopolo, Dr. Emily Gold is a psychologist at NYU who spends her days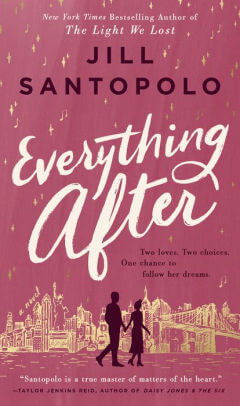 helping students get their lives in order. Her nights are spent with her loving husband, Dr. Ezra Gold, a pediatric oncologist who makes her heart swoon and never fails to bring a smile to her face. Everything is just about perfect. Especially now that Emily and Ezra are planning on starting a family. Ready for that next step in their relationship, the duo can't help but dream of their future and wonder what wonderful things are on their doorstep. Little did they know that everything was about to change–and not in the way they planned.
'I'd found a man so kind, so caring, so thoughtful… I vowed to myself then that I would do everything I could to make him feel loved, understood, inspired–the way he did for me.'
A devastating situation rocks Emily and Ezra to their very foundation. Both of them in the depths of grief, Emily can't help but think of her days in college and a tragedy that happened back then as well. Her emotions are all over the place. So it doesn't help when she hears a song on the radio by her first love. A song that appears to be about her and how she and her ex-boyfriend, Rob, went separate ways. Emily isn't in the best place but she knows that she deserves to follow her heart considering how unsettled she is in her life right now. Music was the connecting thread between herself and Rob. And it's something Emily misses desperately. But will it put her on a completely different path than the one she's on with Ezra?
'This time, instead of his music bringing her to tears, it stopped them. It reminded her that she was strong, that she had survived so much, and that she could do it again.'
Emotionally raw, insightful, and at times heart-wrenching, Everything After touched upon loss, first love, difficult decisions with lasting consequences, and even the healing effect of music in our lives.
'My life has always been filled with love. I just didn't know where to look for it. It's taken me thirty-four years to figure it out. I'm glad I did.'
Trigger warning: View Spoiler »Fertility issues & miscarriage talked about in detail; love triangle with a kiss from her ex (which I consider cheating…). « Hide Spoiler
This was my first time reading Jill Santopolo's work and boy wasn't it one roller coaster ride of genuine emotions and tough situations. Through it all, though, the writing flowed in a lovely way and it was done in such a convincing, genuine manner that it was easy to become invested in our heroine, Emily. I thought it was particularly clever how Santopolo had journal entries interspersed between the chapters that explained Emily's past. It took me reading a few of them before I figured out that they were her own journal entries and not a different character or being written by her in the future. But they added a whole other level of depth to the storyline that brought things full circle.
I will honestly say that I didn't always agree with Emily's decisions. Especially towards the end. *cringe* Although that's really the point: she worked her way through her fertility, marriage and career issues the best she could, being emotionally wrecked from it all. So of course Emily would falter. It was interesting to see her as a psychologist, helping others solve their problems, knowing she really didn't have anyone to turn to per se with her own troubles. Something I think probably a lot of therapists and psychologists might encounter in their lives. And Emily's husband Ezra, a very kind, compassionate pediatric oncologist, was (I think) too close to everything going on to use his empathy skills with Emily. Which was sad. But again, seemed very realistic.
It's the love triangle aspect that some readers might have a tough time reading. I got where Emily was coming from. Her first love–and it was a *deep, passionate* love–showing up in her life again at a pivotal time just threw everything for a loop. It would confuse anyone. I do feel like the way Santopolo ended the story was pretty much perfect for all involved. It was a tough ride to get there, but I think readers will smile when all is said and done. And that's what counts.
If you enjoy reading contemporary novels with a mix of romance and women's fiction, I think Jill Santopolo's newest work will certainly touch your heart and have you flying through the pages.

QOTD: Emily left music behind for years and felt like she found a missing piece of her life when she began playing piano again. Have you ever had something in your life that you rediscovered?
Book Info:

Publication: Published March 9th 2021 | Berkley |
The Light We Lost mixes with a touch of Daisy Jones and the Six in this novel of first love, passion, and the power of choice–and how we cannot escape the people we are meant to be.
Two loves. Two choices. One chance to follow her dreams.
Emily has come a long way since she lost her two passions fifteen years ago: music, and Rob. She's a psychologist at NYU who helps troubled college students like the one she once was. Together with her caring doctor husband, Ezra, she has a beautiful life. They're happy. They hope to start a family. But when a tragic event in Emily's present too closely echoes her past, and parts of her story that she'd hoped never to share come to light, her perfect life is suddenly upturned. Then Emily hears a song on the radio about the woman who got away. The melody and voice are hauntingly familiar. Could it be? As Emily's past passions come roaring back into her life, she'll find herself asking: Who is she meant to be? Who is she meant to love?