In The Four Winds by Kristin Hannah, Elsa Wolcott grew up in Texas with a family who might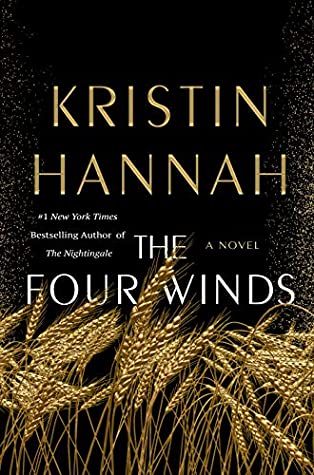 have had a beautiful home and modern amenities, but she never knew love–aside from her beloved grandpa. He taught her that to be brave was to look past your fear. Something Elsa learns firsthand when, after a night of following her heart instead of her head, she finds herself in a predicament where the only solution is marriage. Something she never dreamed would happen. But with Elsa's family all but disowning her, she is brought into her husband Rafe Martinelli's humble home and begins to learn how to live the simple–but difficult–life on a farm.
'Survival took grit and courage and effort. It was too easy to give in. No matter how afraid she was, she had to teach her children every day how to survive.'
The 1920s were prosperous for the Martinelli farm. It's when the 1930s hit that it all changed. With no rain for months, their crops die along with their farm animals, and with no relief from the town or government, it leaves Elsa to wonder if her husband's dream of heading west to California is the right idea. Taking her two children, Loreda and Ant, away from the only home they've ever known is a risk. One with no guarantee of finding jobs or housing. But as the Texas landscape becomes nothing but a dust bowl with windstorms blowing through daily, is there really any other option? Elsa's hard work and determination has seen her through years of hardship already. Surely it will see her and her family through the Great Depression and into the future.
'The four winds have blown us here, people from all across the country, to the very edge of this great land, and now, at last, we make our stand, fight for what we know to be right. We fight for our American dream, that it will be possible again.'
There are still tears running down my face as I write this review. Dramatic, I know. But true. If you've read any of Kristin Hannah's work (The Nightingale comes to mind) then you know exactly what I mean. The Four Winds was not an easy book to read given the subject matter–the Great Depression–although it was an *important* story to tell. Particularly with the world currently in the midst of a pandemic and with all of the unrest and fear out there. I feel like I should also warn that this didn't have a happy ending, but there was a small yet significant glimpse of hope at the end, done in a way only Kristin Hannah can manage with her incredible novels.
'Hard times don't last. Love does.'
I won't rehash the storyline as it is way too intricate and with too many events that snowballed to be able to do it any justice without spoilers. But I will say that this was a tale of strength, courage through adversity, and endurance. Unbelievable endurance. It showed how not only the men in the bleak 1930s had to rise up and fight for their farms and their way of life but how women and even children worked their fingers to the bone day after day to survive–most of it in deplorable conditions.
Told through our heroine Elsa's POV as well as that of her daughter Loreda, what they both experienced will certainly have readers appreciating all they have in their modern lives. Everything, big and small. Because although this was a work of fiction, it was based on the actual living conditions and events that occurred during the Great Depression. It was incredibly difficult to read certain passages and I will be honest that I had to put the book down a few times to gather my thoughts and shake off the gloom over what Elsa and her family had to live through on a daily basis. Heartbreaking is putting it mildly. But their indomitable spirit, a term Hannah used so fittingly, was also inspiring in many ways. And I think that is what truly shines in Hannah's books. She always finds that glimmer of hope and shows us the strength that carried people through heart-rending situations.
There aren't enough adjectives in the world to describe the depth of emotion The Four Winds brought out in this reader. There was sorrow and despair, certainly. But as with all of Kristin Hannah's novels, it left me with a better understanding of those who have come before us and of the hardships they endured. Most of all it left me with the knowledge that there is always something we can do–as individuals and as a group–to strive for what is right…and how beautiful the human spirit truly is.

QOTD: Have you read any books about the Great Depression before? If so, are there any that stand out above the rest?

Book Info:

Publication: Published February 9th 2021 | St. Martin's Press |
From the number-one bestselling author of The Nightingale and The Great Alone comes a powerful American epic about love and heroism and hope, set during the Great Depression, a time when the country was in crisis and at war with itself, when millions were out of work and even the land seemed to have turned against them.
"My land tells its story if you listen. The story of our family."
Texas, 1921. A time of abundance. The Great War is over, the bounty of the land is plentiful, and America is on the brink of a new and optimistic era. But for Elsa Wolcott, deemed too old to marry in a time when marriage is a woman's only option, the future seems bleak. Until the night she meets Rafe Martinelli and decides to change the direction of her life. With her reputation in ruin, there is only one respectable choice: marriage to a man she barely knows.
By 1934, the world has changed; millions are out of work and drought has devastated the Great Plains. Farmers are fighting to keep their land and their livelihoods as crops fail and water dries up and the earth cracks open. Dust storms roll relentlessly across the plains. Everything on the Martinelli farm is dying, including Elsa's tenuous marriage; each day is a desperate battle against nature and a fight to keep her children alive.
In this uncertain and perilous time, Elsa—like so many of her neighbors—must make an agonizing choice: fight for the land she loves or leave it behind and go west, to California, in search of a better life for her family.
The Four Winds is a rich, sweeping novel that stunningly brings to life the Great Depression and the people who lived through it—the harsh realities that divided us as a nation and the enduring battle between the haves and the have-nots. A testament to hope, resilience, and the strength of the human spirit to survive adversity, The Four Winds is an indelible portrait of America and the American dream, as seen through the eyes of one indomitable woman whose courage and sacrifice will come to define a generation.