Everywhere She Goes by Janice Kay Johnson: Cait and men just don't belong together, or at least that is her impression. She grew up with an angry, abusive, and alcoholic father; not to mention a brother who started to get angrier and more violent (though never at her) as he aged. When her mom got too tired of it she packed up Cait and took off. Never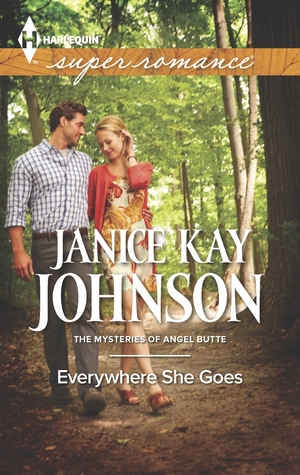 having a really good relationship model Cait started a relationship with an abuser. Finally having had enough she decides it's time for a new start, a new job, and a new life. She choses to go to her old hometown and reconnect with her brother.
Noah wasn't sure really what he was looking for when he came to Angel Butte all those years ago. Was it really to reconnect with a father he never knew or was it something more that drew him there. Whatever it was he was now a successful businessman with 3 taverns under his belt and the mayor. One look at Cait though and he knew his life wasn't yet complete.
As nice of a small town as Angel Butte was it wasn't as "Mayberry" as everyone thought. There was corruption in the police department and who knows where else. Cait was being stalked and now murder and bullets were becoming involved. Noah knew he had to protect her, but how far would he go and could either of them protect their bruised and battered hearts?
I've never read Ms. Johnson's work before and all I can say is I will be finding everything else she's ever written. This story is so masterful it takes you inside this small town and really makes you think you are there. My heart bled of Cait and for Noah as well as more and more of their backgrounds came out and we learned more of what they had facing them.
Without giving away some major moments know that your heart will be in your throat as you await their fates. Without a doubt this is a book you should go and pick up as soon as you can.
Book Info:

Expected publication: January 7th 2014 by Harlequin
Standing between her;and danger;
Returning to her hometown is Cait McAllister's chance to stand on her own. That means taking a break from men and relationships. Then she meets her new boss, the intriguing Noah Chandler. As the mayor, he's got bold plans for Angel Butte. As a man, he's so tempting that Cait's vow of independence is in jeopardy.;
The most persuasive part of him, however, could be the way he looks out for her. Because when a threat from her past puts her in danger, Noah is there to protect her. And there's no way she can resist a man who has so much invested in keeping her safe.