In Runaway Groom (Wedding Fever #3) by Fiona Lowe, Amy Sagar arrives in Whitetail, Wisconsin, at one of the lowest points in her life. She has been betrayed, fired and lost her boyfriend in one fell swoop. Some time away from Chicago is in order so she can sort out her next big step. Only the local house Amy's unexpectedly staying in doesn't remain quiet and relaxing for long. In walks Ben Armytage, a sexy Australian on his way through the U.S. on his vintage Harley. Their initial meeting is a disaster and the sexual tension is off the charts. Amy should be preparing for job interviews not ogling the man candy she's sharing the house with, or being pulled into wedding drama at the local boutique. But maybe Ben and the rest of the residents in Whitetail can provide the support she needs to help her get back on her feet again.
'She'd lost her job, attacked and dislocated a motorcyclist's shoulder, undressed the handsomest and most exasperating man she'd ever met and now she was buzzed on champagne in the middle of the day. Why not add in trying on a wedding gown?'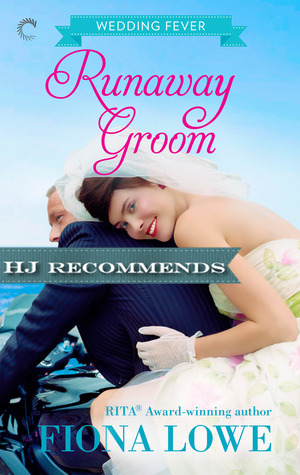 Aussie Ben Armytage thought a trek across basically the entire Western hemisphere would finally rid his mind of the betrayal he received courtesy of his ex-fiancee Lexie. When his beloved Harley, Red, has a few issues he finds himself in Whitetail, which much to his horror is a mecca for weddings. Ben didn't think it could get worse until he meets Amy. He's sworn off women, but she's sweet & shy and looks like a pinup girl, so he can't help his reaction to her. But she's also hiding something from him. And as secrets are revealed, on both their parts, Ben may be pushed further than he's ready and willing to go emotionally.
His arms tightened around her. "I'm so sorry for being so idiotically slow to realize that you're the best thing that's ever happened to me."
Runaway Groom is the first book I've read in Fiona Lowe's Wedding Fever series, and I have to say, I truly enjoyed this romance. I immediately identified with the characters, Amy in particular, and loved that there were two other couples we meet along the way who also find their HEA.
Fiona's writing style was easy to follow and flowed smoothly from one character's POV to the next. Both Amy and Ben were going through some very deep, dark emotional struggles when they met and I liked how Fiona wasn't afraid to delve into that while still adding funny moments to lighten the overall tone a bit. Pair that with the sense of community that runs throughout, and this story reminded me of Susan Mallery's Fool's Gold series and Robyn Carr's Virgin River series. It's full of strong secondary characters that add charm and quirkiness to the story.
I kind of fell for Ben right away (what is it about Australian men?) and loved the teasing between himself and Amy as they were getting to know one another. After a rocky start, they turned out to be a wonderfully balanced couple…even though neither one would admit it was anything other than casual until it was too late. And Amy was such a giving, caring person, always putting herself last. Seeing her personal growth as we went along was definitely satisfying. The other two couples we follow: Melissa and Scott, Al and Ella, were equally as engaging as our protagonists. Even though I hadn't read the previous two novels, I had no problem falling into step with the Whitetail residents and understanding the dynamics.
If you're a fan of well-written contemporary romance, I would suggest Runaway Groom. You get THREE HEA's in one novel!!
Book Info:

Published January 20th 2014 by Carina Press | Series: Wedding Fever #3
Book three of Wedding Fever
Amy Sagar's life is in ruins. Fired from her fast-track job and dumped by her double-crossing boyfriend, she retreats to Whitetail, Wisconsin, to lick her wounds and regroup. Meeting an impossible, sexy Australian isn't part of her strategy for getting back on track.
Ben Armytage is running away. After being left at the altar and publicly humiliated, he's taking his vintage motorcycle on an extended road trip from Argentina to Alaska. Having his journey interrupted by a breakdown and sharing a house with a curvy, redheaded lawyer in a town obsessed with weddings was never on his itinerary.
Though being stuck in a luxury log cabin isn't really a hardship, living together with their broken hearts isn't easy. When the attraction between Amy and Ben proves unstoppable, they'll both begin rethinking their plans…
For more weddings in Whitetail, check out Saved by the Bride and Picture Perfect Wedding, available now!