In Exchange of Fire (SBG #1) by P.A. DePaul, "Sandra" reinvented herself when she left Sweet Briar Group after a mission gone bad she could not get over. No one leaves Sweet Briar Group, a covert special ops group, and lives to tell. Now she lives life always ready to run, her senses always on high alert.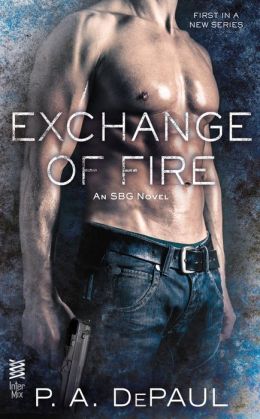 Sandra ends up working in an adventure arcade owned run by former Marine Grady. With his own troubled past, Grady is doing what he can to help others have a place to go. He is intrigued by Sandra from the moment she sets foot in his office. He senses that there is a lot of Sandra she keeps hidden, but is hopeful there can be more between them.Sandra is definitely attracted to Grady, but knows she can never start anything with him because she'll never be able to finish it.
When Sandra's past catches up with her and threatens her present, Grady is determined to help her, to protect her…even if he still doesn't know what's going on with her. Sandra tries to refuse his help, but suddenly Grady is part of it all anyway, he is stuck in the middle of Sandra's battle, and danger is close. As the attraction between the two of them finally reaches boiling point, lives are at risk and choices are going to have to be made, loyalties decided. Will Sandra stay around or run? Is her life and their future worth the fight?
Sandra and Grady are intriguing characters who have more in common than they think. I really, really liked Grady! Protective, caring, hot and generally a good guy. Which made Sandra's secrecy with him, especially when he was in danger also, all the more frustrating. Sandra was a bit of a contradiction. She cares for Grady but seems to have no qualms not telling him what he's up against. She was a little difficult for me to like at times, because she seemed completely oblivious to the danger she's placed everyone around her in. I also felt that as a special ops agent (former), there were parts of the plot where I thought she and her team really should have known better considering what they are supposed to be! That made the whole maybe it could really happen plot a little less believable.
There are a lot of secondary characters in Exchange of Fire and at times it was a bit overwhelming. Once I got them straight in my head though,I found them, especially Sandra's former team, to be an integral part of Exchange of Fire. As the book progressed it was easier to keep track of everyone. I liked the connection the team demonstrated, their interactions, and the way they knew each other really brought them to life. There is a lot of tension in Exchange of Fire not only between Sandra and Grady, but between the secondary characters, and the way P.A. DePaul writes this in makes them seem like real people.
The romance and conflict between Sandra and Grady is almost secondary to the action and suspense, and P.A. DePaul manages to weave it all together with easy flowing writing and I couldn't wait to see how all of it worked out. Exchange of Fire is a bit long at times, but it is a very intense read and not easy to walk away from.
With Exchange Of Fire, P.A. DePaul has a good set up for more books in the Sweet Briar Group series. With secrets, danger, action, suspense and romance, there is a little of everything and I'd recommend Exchange of Fire to romantic suspense readers.
Book Info:

Published August 19th 2014 by Penguin InterMix | (SBG #1)
Faking her death was easy, living with her past is harder, but nothing is more dangerous than falling in love…
Sandra Walsh was a deadly sniper for the Sweet Briar Group, a covert agency with assassins for hire, until her last mission went horribly wrong, accidentally killing an innocent girl. Knowing she's a danger to her team, Sandra goes off the grid, becoming a Shade—an agent declared dead but secretly hiding among the living. She intends to honor her vow never to pull another trigger or have contact with the spy world again. Until she meets Casper Grady…
Grady is a former Marine with a troubled past and a debt to pay. His life mission has gone from protecting the nation to helping local children and their families. The moment he meets Sandra, he knows there's more to her than meets the eye, but he can't help but be drawn to the mysterious femme fatale. And when Sandra's past suddenly catches up to her, Grady is determined to protect her at all costs, no matter how dark and dangerous her secrets are.
As the danger increases, so does their intense attraction. But when they're forced to choose between each other and the people they've sworn to protect, their growing love might not be enough to keep them together—or alive…