Debauched in Diamonds (Tulle and Tulips #4) by Nikki Duncan: I love books that have anything to do with weddings and this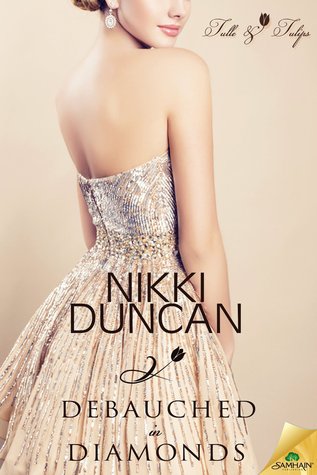 series fits the bill perfectly. The wedding planning business is busy and romantic, completely due to the success of the women who manage Tulle and Tulips.
This short story focuses on the love life of Darci Drummond, the woman responsible for all the bling necessary for the perfect wedding. Darci's vault has it all, whether it is a pair of dazzling diamond earrings or a milk chocolate gemstone tiara. What Darci does not have is a man to share her life with, and that is where geeky, yet hunky Victor Green comes in.
Victor's life is all about writing computer code and he is quite good at it. He doesn't date much, since he spends all of his time with his trusty computer. However, now that his baby sister is getting married, he has no choice but to be a little more social, especially since he is secretly paying Tulle and Tulips for their planning expertise. He literally bumps into Darci at a local bridal expo, and as a result of their attraction and the matchmaking antics of his sister and the other wedding planners, they begin a no strings attached relationship. Between getting to know each other and the mind-blowing sex, they are both goners.
This is a hot short story that is extremely easy to enjoy. To begin with, I really liked the cover. Not only is it pretty, but it perfectly compliments the story. Secondly, the plot is totally engaging and I found myself cheering for Darcie and Victor to work through their misgivings and find true love. Lastly, all the characters are likeable, fun and well-described. I am definitely going to read the first three books in the series.
If you love stories about weddings and don't have a lot of time to spare, read Debauched in Diamonds.
Book Info:

Publication: September 23rd 2014 by Samhain Publishing | (Tulle and Tulips #4)
At work, Darci Drummond, aka The Bunny of Bling, shines as bright as her trademark tie-shaped diamond necklace. Her dating life is a bit more tarnished. After getting hurt by a string of boyfriends, she takes solace in helping other women shine on their special day.
She wouldn't complain if she found someone to give her a few simple pleasures—and zero strings. Just not that nerdy computer programmer working upstairs.
Victor Green's idea of a great Saturday night—any night, really—is a Starbucks and a code-filled computer screen. Yet somehow, at the relentless begging of his baby sister, he finds himself walking the runway at a bridal show where he meets a stunner sporting a tie-shaped necklace. The next thing he knows, he's thrust into a matchmaking scheme with wedding bells in the background.
Tricked into a date with Victor, Darci finds herself embroiled in an affair with a man who's nothing like he seemed. And as her resistance crumbles, she wonders if it's time to let someone get closer than skin deep…
Warning: If you're opposed to a man who forgets to clean and a woman willing to tolerate his quirks… Wait, isn't that real life?