In Face Off (The Evelyn Talbot Chronicles #3) by Brenda Novak, Psychiatrist Evelyn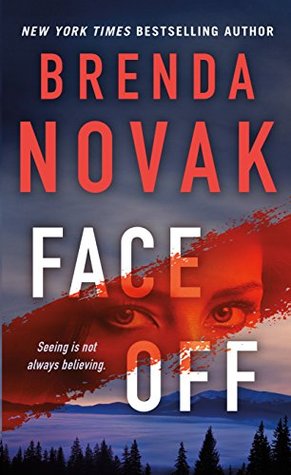 Talbot has spent the last couple of years in Hilltop, Alaska, trying to turn the newly built Hanover House into a success. The facility contains some of the most dangerous serial killers and sociopaths found anywhere. And it's Evelyn's job to research their psychopathy to hopefully find a way to deal with the real life monsters hiding in the world today. A struggle she knows personally, having been tortured and left for dead after her throat was slit by her then boyfriend Jasper Moore when she was just sixteen. Having faced down the emotional trauma since then, it is the love and understanding of Sergeant Benjamin "Amarok" Murphy who has helped Evelyn truly begin to heal and hope for a normal life.
"You're giving me an ultimatum. All or nothing?"
"All or nothing," he replied, and the conviction in his voice scared her. "I want a commitment. I want to know I can rely on your love the way you can rely on mine."
But unfortunately just when Evelyn and Amarok are finally finding their stride as a couple, two women go missing, pointing in the direction of a serial killer in their midst. Jasper Moore is never far from either of their minds. But neither Amarok nor Evelyn want to admit he might have found her in Hilltop and could possibly be hiding out, waiting to make his attack. The investigation leads them on a wild chase, with the crimes becoming more gruesome. Evelyn can't help but think her presence in Hilltop is detrimental to the small community–and especially to their only police officer, Amarok. Choosing whether she should flee back to Boston to hopefully deter the killer or if she should stay until they get the culprit, Evelyn will have to dig deep and find the strength to make that decision before it's taken out of her hands.
'It didn't matter that they were from different worlds, that she was seven years older, that her emotional scars sometimes created problems. She was the one for him, the one he couldn't live without.'
Gritty, packed with action and plot twists you won't see coming–but still with a thread of romance–Face Off was the ultimate showdown between a serial killer and his prey. Neither of whom was willing to give up, intending instead to fight to the bitter end.
'She knew it was just a matter of time before Jasper reappeared, and the longer it went the more anxious she became.'
Trigger warning: Murder, torture, rape, abduction. Some of it detailed through the killer's disturbing POV.
I've been waiting (not so patiently) for this third book in the Evelyn Talbot Chronicles to finally come out and see what would happen next after Evelyn began thinking serial killer Jasper Moore might have found her in Hilltop, Alaska. And I have to be careful here not to give away too much. What I can say is that, to me, this was every bit as thrilling and intense as the previous two books. There was indeed a killer on the loose but whether it was actually Jasper, you'll have to find out on your own. (lol) That was obviously a huge focus of the storyline. And boy did it keep me guessing if it would all work out in Evelyn's favor by the end.
The other big portion of the plot was Evelyn and her boyfriend Amarok's relationship, whether she could commit to remaining in Alaska. She felt guilty over so many bad things having happened in Hilltop since she arrived and Hanover House was built. That I understood. It was when her sister Brianne and their mother kept pushing Evelyn to go home to Boston that I wanted her to put her foot down. It seemed rather selfish on their part to blame her for their own woes and personal issues when Evelyn had finally been doing so well mentally and emotionally–remarkable considering what Jasper did to her two decades prior. But for her family to tell her to just up and leave her career *and* her boyfriend of two years? Not cool.
Face Off will have you on the edge of your seat, gasping, cheering, and cringing right up until the final page. As always, Brenda Novak delivered a riveting story with well-defined characters and a realness to it that made this a chilling, highly emotional read.
Book Info:

Publication: August 28th 2018 | St. Martin's Paperbacks | The Evelyn Talbot Chronicles #3
Tortured and left for dead at sixteen, Evelyn Talbot turned her personal nightmare into her life's work—studying the disturbing psychopathy of some of the world's most vicious serial killers. Now a leading psychiatrist at Hanover House in a small Alaskan town, she tries to believe the past will never come back to haunt her—until a woman goes missing from a cabin nearby, and every clue points to the man who once brutalized her…
As her boyfriend, who is the area's only police, begins to investigate—and finds not one but two bodies—Evelyn can't forget that her would-be killer, Jasper Moore, was never caught. But there are no new faces in tiny Hilltop, no one who seems suspicious or potentially violent. In this twisted game of cat and mouse, Evelyn is certain of only one thing—Jasper must be hiding in plain sight. And if she can't find him before he comes for her, she won't be lucky enough to survive twice…