In Darkest Heart (Dominion #1) by Juliette Cross, Anya needs to find the Archangel Uriel in order to get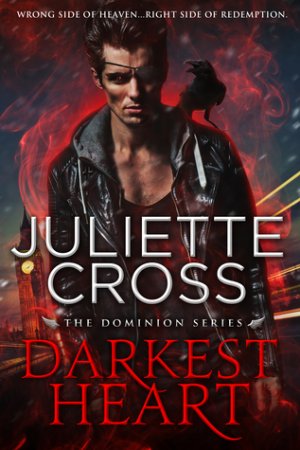 his help in stopping the venom coursing through her veins after a demon prince bit her. However, with Uriel missing, the only person she can count on is high demon, Dommiel, to help her track Uriel down. Forced to work together, Anya finds herself attracted to the handsome and dangerous demon. Will Dommiel be able to help Anya or will they lose their shot at happy ever after because they're on different sides?
I offered a small smile, lifting my hands to lace at his nape. "It's okay. I know you wouldn't abuse your power with me." I pressed a soft kiss to his lips. "I trust you."
He shook his head as in disbelief. "Anya, baby. What am I going to do with you?"
"We've had this conversation before." I arched a brow. "Right now, I'm going to kick some demon ass. Demoness, actually. But first, you're going to breathe into me your essence."
First off, I know there are some readers that dislike swearing while reading a book, so I'd like to warn that there are a few F-bombs in this story. However, I think the swearing adds color to the story and gave this reader proof that Dommiel is not your typical demon — ugly, ruthless and one that loathes angels and humans. Really, he's none of those things and feels things emotionally, even when he doesn't want to. Will he ever believe he's good enough for Anya? How far is he willing to go to keep her safe?
As for the dialogue, it was very entertaining and an absolute page turner due to the main characters back stories and the obstacles they face to be together because Anya is an angel while Dommiel is a demon. Are demons and angels allowed to be together? Will Anya find a way to be free from the demon prince that bit her? Moreover, both the main characters are fantastic and I loved their growing relationship because Anya is unlike anyone Dommiel has ever met before. She cares deeply about everything and isn't afraid to stand up for what she believes in and fight for those she cares about. And indeed, she proves over and over again how resilient, feisty and courageous she is. I also liked how determined she was to prove to Dommiel that she can handle the trouble they face.. Then again, she is a warrior that's faced some tough challenges to get to where she is in life. Yet, what I liked most of all about the heroine was her brutal honesty and how she shows Dommiel that he's the one for her.
"Admiring my beauty mark, Angel?"
I stared a moment longer. "It's ugly. But not hideous."
A dark chuckle. "Full of compliments, aren't you?"
"I speak only the truth."
"Well, don't we make a pair. I speak only lies."
While the hero, I absolutely loved him because of his back story and everything he goes through in this story that kept me wondering what would happen next, especially since he's a demon falling in love with an angel. Will he get his redemption? Furthermore, I loved the hero's confidence, the moments when he's charming and flirting with the heroine, and I liked how protective he is of Anya because he cares so much about her. I also liked how far he's willing to go to keep the heroine safe, even if it means putting himself in danger; danger he might be able to get out of.
Overall, Ms. Cross has delivered an utterly engaging, emotionally-rousing, wonderful read in this first book of her Dominion series where the chemistry between Anya and Dommiel was powerful and just kept getting stronger the more they interacted and the more the heroine came to trust the hero; the romance was absolutely scorching, as Dommiel shows Anya how good sex can be; and the ending had me on the edge-of-my-seat with worry for the main characters because of what one of them does to protect the other, but had me crying happy tears once Dommiel and Anya are reunited. However, it was the epilogue that wrapped this story up wonderfully, as these two are perfect for each other and so deserving of the happiness they've found. I would recommend Darkest Heart by Juliette Cross, if you enjoy paranormal romance, the opposites attract trope or books by authors Suzanne Wright, Lisa Kessler, Nina Croft and Mary Hughes.

Book Info:

Publication: August 20th, 2018 | Entangled Publishing | Dominion #1
Wrong side of heaven…right side of redemption.
Anya—a stoic, blue-winged angelic warrior— was bitten by a demon prince in battle, and now she has precious little time to find a cure for his deadly venom. But the only archangel with the power to stop the dark poison from corrupting her body and soul is missing. She'll have to trust her guide, the outcast high demon Dommiel, who is as handsome as he is dangerous if she has any hope.
An outcast of his own kind, high demon Dommiel stays under cover while the war between angels and demons rages on. But when the only person who ever showed him kindness asks for his help, he has no choice but to try to save the angel. Venturing back into the dens he has avoided for so long, Anya makes him want and feel things he never thought possible.
But Dommiel knows there is no way an angel can ever love a demon…