Fake Date by Monica Murphy: Sarah is sassy, independent, and trying to be a parent and sister to her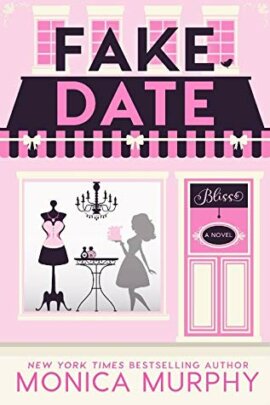 younger brother and sister. She's stepped up and put them first. Working at the high-end luxury lingerie store, Bliss, isn't exactly her dream job but she is good at it. Between working, taking care of her family, and girls nights, she has no time or interest in men and dating.
Jared is a workaholic and he likes it that way. He prefers to throw himself into work and keep everyone, even his family, at arm's length. He's smart, sexy, closed-off, and deliberately speaks his mind. Fortunately for him, he has a pushy and meddling sister. He doesn't believe in love or relationships.
Jared is the one client Sarah dreads seeing. He's been coming into Bliss for months and has private appointments with her. They banter and hate-flirt and they do what they can to push each other's buttons during those appointments. She's insatiably curious about him and all the women who are lucky enough to receive his gifts.
"You shouldn't buy it for me."
"You're contradicting yourself," he points out.
"Because you confuse me. I don't understand why you're doing this."
"I like buying you things." His voice is a low growl, vibrating against my skin.
"Oh, trust me, I know." It's fairly obvious.
Things change when Jared sends his lingerie purchase to her. And follows that up with other delightful and tempting gifts. It all seems like a game, but then Sarah agrees to be his fake girlfriend at a family event. Suddenly they have to get to know each other and find they have things in common. They connect and their fake relationship seems pretty real.
"Are you trying to flirt with me?' I ask, calling him out.
He shrugs one shoulder. "Perhaps. You should get used to it. You are my pretend girlfriend, after all."
"True," I say, my voice faint.
Fake Date has banter, heat, friendship, and family. Monica Murphy created an engaging opposites attract romance that hooked me from the beginning. Ms. Murphy provided a thoroughly entertaining cast of characters to include their friends, family, and coworkers. Fake Date can be read as a standalone in the Dating series. Fans of Kendall Ryan and Emma Hart will enjoy Fake Date.
Book Info:

Publication: Expected publication: September 17th 2019 | EM Publishing | Dating #2
Working at Bliss, Sarah Harrison deals with all sorts of—interesting clientele. Yet no one sparks her interest more than Jared Gaines, the ultra-rich, ultra-sexy businessman who frequents her shop, buying delicate little "gifts" for the women in his life.
But one day, Jared sends her a gift from Bliss. Then another—and another. So when Sarah walks into his office demanding to know why he can't stop sending her gifts, he makes her an offer she somehow can't refuse: be his fake girlfriend for the weekend while attending his brother's engagement party.
Next thing Sarah knows, she's in San Francisco, pretending to be in love with Jared. Not that it's a hardship. Once you get the man away from the office, he's much more relaxed. Sweet. Funny. Even…thoughtful? Oh, and sexier than ever, of course.
Their pretend relationship feels very real, very quickly. Soon Sarah's in over her head. Could what she and Jared share turn into something real? Or is it all actually…fake?