In Fake Fiancé, Real Revenge by Roxanne Snopek, Mitchell Granger has come a long way from the boy not good enough he used to be growing up, now he is a real-estate tycoon. But he has run into a glitch, when an eccentric client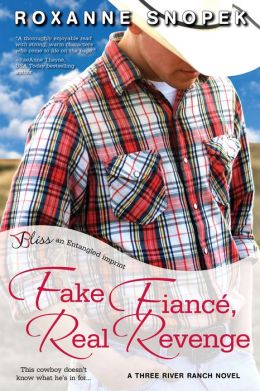 wants him to date her stepdaughter he told her a teeny white lie. That he was engaged and the only name that came to mind was Sabrina Becker the girl he was never good enough for no matter how much he loved her.
Sabrina doesn't mind posing as Mitch's fake fiancé, not only because he will pay for the construction of the changes she needs in her clinic, but also because she has never forgiven him for leaving her and now she has her chance at revenge. She wants him to feel the heartbreak she felt when he left her behind and for that she will make him fall in love and then break his heart.
But life doesn't always go as planned as both Mitch and Sabrina will discover soon enough. The chemistry they had never died and the attraction is inevitable. Not only that, their conscience will not be silent when their heart knows what really is worth fighting for and what should be left behind and the decisions they thought were for the best will be put to the test between having true love and family or having revenge and success.
If you read the previous books by Roxanne Snopek you may have seen Sabrina and Mitch for a little while when Rory organized her party and invited Mitch, Carson's brother, back to Three River Ranch after a long time away. I know I wondered why he was so apart from the rest of the town and his family, and thankfully in this book we get to know the truth behind Mitch's story and why he left his hometown.
This is another great book by Roxanne Snopek and I truly recommend it. It is fun, entertaining and sweet, it will break your heart and it will make you smile with the actions of these two broken souls that can only make each other complete.
Book Info

Publisher: Entangled: Bliss (August 12, 2013)
This cowboy doesn't know what he's in for…
Real-estate tycoon Mitchell Granger has a problem. In order to secure a lucrative deal with an eccentric client, he told the teeny white lie that he was engaged…and now he needs to prove it. Even worse? The only name that came to mind was Sabrina Becker, the girl he was never good enough for growing up, and who still lives near his family ranch.
Sabrina doesn't mind posing as Mitch's fake fiancée—no, she doesn't mind at all. One, she'll make him pay with new construction for her business. And two, Sabrina's got a plan to exact revenge on her first love, the boy who left her and Three River Ranch behind. She'll pretend so well, he'll fall in love with her…and then he'll get a taste of what true heartbreak feels like.
But as Mitch sheds his corporate skin and picks up his dusty jeans and cowboy hat, will both his and Sabrina's grand plans get derailed by love?