In Mission: Seduction by Candace Havens a gripping and intense first chapter draws the reader into this exciting romance with characters that are heartfelt, sincere and authentic.
Marine Lieutenant Rafe McCawley was shot and injured very badly during combat. While recuperating in Germany, Rafe's severe pain is tempered by thinking about sweet Mimi, the model he spent a single, almost platonic evening with before he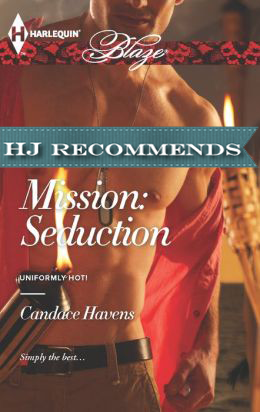 deployed. Her encouraging letters and emails help him to work through the physical and mental anguish he is experiencing. Mimi even invites him to spend his medical leave with her in Fiji, at her sister's private, high-end, yoga and surf camp resort.
Professional surfer and resort owner Kelly Callahan is slightly frantic. After almost six months of corresponding, Rafe is finally on his way. Kelly has grown to like Rafe very much. Having access to her sister Mimi's email account, Kelly waited while Rafe's email to her remained unanswered. She knew her egotistical sister would never respond and Kelly felt the need to reach out to Rafe, so she did. Of course Rafe has no idea that Kelly is the real email and letter author. Now she is nervous as hell, because not only is she meeting Rafe for the first time, but she has to find a way to tell him the truth. Luckily, Rafe believes her excuse about Mimi's absence and Kelly decides the truth can wait.
After only a few minutes together, the chemistry between Kelly and Rafe is palpable. As they spend time with each other, the heat between them gets hotter and hotter. Kelly's yoga and massage enables Rafe to relax and consequently heal with less pain. And a tender and loving romance blossoms.
Of course a few obstacles stand in the way of their happiness. Kelly's wacky parents come for a visit and cause a well needed epiphany. Kelly's future as a pro-surfer may be in jeopardy as well as Rafe's future in the armed forces. Tropical storms create some havoc, but Mimi's impromptu arrival is the icing on the cake. Once the truth is revealed, Rafe leaves and Kelly is crushed. Fortunately, through the help of family, true love conquers all.
The foundation of Mission: Seduction by Candace Havens is the combination of love, tropical breezes and ocean waves. This is a sweet and emotional read that had me engaged from beginning to end.
Book Info

Publication Date: August 20, 2013 | Series: Harlequin Blaze (Book 764)
Subject: Marine Lieutenant Rafe McCawleyMission: Seduce the woman who saved him. But does he have the right one?
A breathtaking island resort is perfect for Rafe McCawley to relax, recover…and enjoy the woman whose emails kept him sane during his previous tour. But instead, Rafe is greeted by her stunning sister, Kelly Callahan—pro surfer, resort owner and (God help him) hot enough to set the ocean itself ablaze….
But Rafe doesn't know the whole truth. Kelly had been the one behind the emails. And she'll tell him…as soon as she can get her libido under control!
The heat between them is immediate. It's red-hot. And wrong or right, it won't be denied….
Uniformly Hot!
The Few. The Proud. The Sexy as Hell.