Fake It Till You Bake It by Jamie Wesley: Jada has been avoiding a lot: her parents, social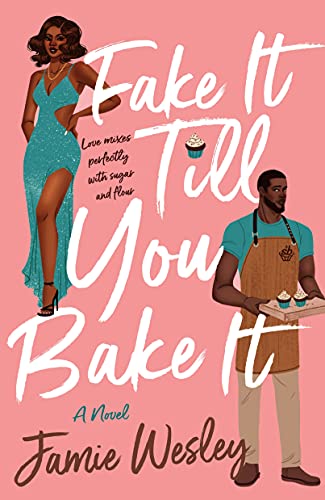 media, and her grandmother. When she accidentally insults the owner of a cupcake shop, it's the icing on the cake. After he convinces her to try the cupcakes in question, she finds that they are enjoyable but obviously won't admit that to the brooding owner. When her grandmother says that she needs to keep a job for 6 months in order to get her trust fund early, she is even more surprised when the job lined up is at the exact cupcake shop that she insulted.
Dominic can't believe his luck when the cupcake snob is the granddaughter of his football team's owner. Especially when he just agreed to add her to his staff. Within her first week, she almost burns down the kitchen, and Dominic loses his cool. After apologizing, they start to work on a friendship even with sparks flying.
When Jada's past on a reality show catches up with her at the bakery, she quickly convinces Dominic to be in a fake relationship with her. It is great publicity for the shop and also helps Jada recover from her decisions on the show. As the two spend more time together, they find that they want more out of the relationship. With nosy families and friends, meddling producers, and hot sparks flying, it's up to Dominic and Jada to decide what they want in the end.
Jada has dealt with struggles all her life. Ever since she was diagnosed with dyslexia at a young age, she never lived up to her parents' expectations, and it haunts her. She has embraced her coping mechanisms, but it is hard for her to find her passion in life. When she is with Dominic, he makes her feel safe and helps her overcome all the adversity that has been at her door. She learns from him how to be herself and figures out her strengths in the process.
Dominic has always been an orderly person. When he meets Jada, she actually throws him for a loop. Being with her helps him embrace the carefree aspects of life. There is a noticeable difference in the way that he is before and after meeting Jada, and even his friends think that it is for the best. As Dominic learns how to embrace the affection shared by Jada, he finds that he wants to express himself more to her. He just has to figure out how to do it.
Overall, the book was so good! It has the perfect amount of steam (in the second half), and you really feel like you know the characters. It was great to see both Jada and Dominic comes to terms with the emotions that they were feeling and build a bond as a couple. I truly hope more books come out showing Dominic's friends finding love, because I want more of the characters we met so far!
Book Info:

Publication: June 21, 2022 | St. Martin's Griffin |
A reality star and a cupcake-baking football player pretend to be a couple in order to save his bakery in this sweet and sexy romance from Jamie Wesley, Fake It Till You Bake It.
Jada Townsend-Matthews is the most reviled woman in America after turning down a proposal on a reality dating show. When she comes home to lick her wounds, Jada finds herself working at San Diego's newest cupcake bakery, Sugar Blitz, alongside the uptight owner and professional football player Donovan Dell.
When a reporter mistakenly believes Jada and Donovan are an item, they realize they can use the misunderstanding to their advantage to help the struggling bakery and rehabilitate Jada's image. Faking a relationship should be simple, but sometimes love is the most unexpected ingredient.
Fake it Till You Bake It is a sweet confection of a novel, the perfect story to curl up with and enjoy with a cupcake on the side.