Fake Wife by Stacey Lynn finds both Corbin Lane and Teagan Monroe in a bind. Corbin's grandmother, the only person who has shown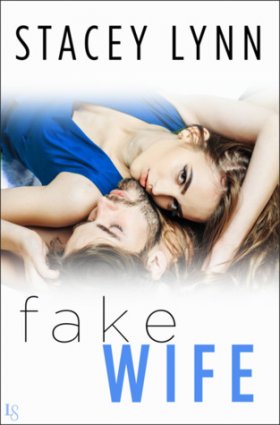 him love in his life, has passed away. She willed him her home, but with a catch–he has six months to fall in love, get married, and remain married for two years. Teagan's having a bad day–she gets fired, finds her boyfriend of seven years in bed with another woman, has nowhere to go after moving out of their apartment, and then she crashes into the back of Corbin's expensive car. She expects him to yell at her, but instead he has another proposal: marriage. Teagan isn't sure they can pull it off, but he needs her and she needs him.
Everyone assumes Corbin has it made because of his family's wealth, but that couldn't be further from the truth. HIs father is unlikeable, his mother dulls her pain with alcohol and drugs, and while he's expected to take over the family business when his father retires, he wants no part of it. Despite his upbringing he's genuinely a good guy caught in the hard place of doing what's expected of him and following his dreams.
Teagan has sacrificed her boyfriend, following him around the country as he goes to medical school then his residency. While she doesn't have many friends and finds herself in a difficult situation, she makes the most of it. Corbin's wealth doesn't intimidate her, and she's not afraid to call him out when he needs it. I admired what she wanted to do, and I loved how Corbin wanted to support her and her dreams.
I found Drake's reasoning for cheating on Teagan to be weak. I also didn't really understand Corbin's mother. If she was so unhappy in her marriage and the way her husband treated her, I don't understand why she didn't just leave him instead of falling into drugs and alcohol. Things probably would have been better for both her and Corbin if she had. Instead, Corbin's left with a vacant mother who doesn't really seem to care about anything.
Even though the story is predictable, I still enjoyed it. It's a quick read with little drama. Fans of the fake fiancé trope will want to check this one out.

Book Info:

Publication: January 9, 2018 | Loveswept |
Corbin: I loved my grandma, but I don't need her money. All I care about is keeping the house—the only place that's ever felt like home. That, and screwing over my dad, who wants to turn the property into a mall. There's only one catch: To receive my inheritance, I have to get married within six months. Me, the guy who's never dated a girl for more than six minutes. Now I need to find a woman I can trust. So when I'm rear-ended by a Prius, I figure it's a sign that I'm supposed to meet gorgeous, down-to-earth Teagan Monroe.
Teagan: First I lose my job. Then I come home and find out—in the most graphic way possible… yeah, that way—that my boyfriend is a cheating jerk. And then I speed off and nearly kill Portland's sexiest bachelor. Corbin Lane should be pissed. Instead, he offers me more money than I've ever seen in my life to marry him and live together in a mansion for two years. No sex. No feelings. Just cash—enough to make all my dreams come true. Then we go and break all our rules… and I realize I'm falling in love with my fake fiancé.