In Faker by Sarah Smith, Emmie Echavarre works hard for Nuts and Bolts, but being a woman working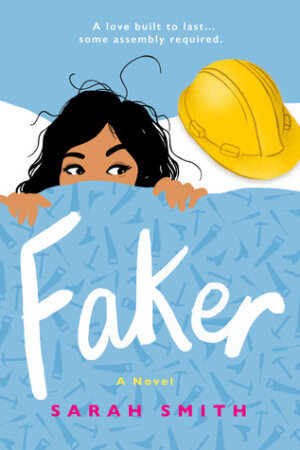 for a male dominated company doesn't get her far. Even worse, working with Tate Rasmussen day in and day out tests her control, especially when all he seems to wear on his face is a scowl any time she's around. However, when she finds herself having to work with Tate for a charity project, things begin to change between them. But can they both let go of the past to have a future together or will they lose their shot at happy ever after?
"Quite being so dramatic," he says. "Who knows? You may actually enjoy working with me. Stranger things have happened."
The most obnoxiously smug expression clouds his face. He knows the thought of having to work with him directly is making me crawl out of my skin, and he loves it. "Fat chance," I say.
"Give it time. I'm quite charming."
"You're not. Believe me. I know charming, and you absolutely are not it."
What an interesting, fast-paced and entertaining read Ms. Smith has delivered in this enemy to lovers trope encompassing story where being forced to work together is definitely worth every bit of disdain and aggravation both feel if it leads to such a fulfilling happy ever after. Then again, the way this story started had me liking the heroine immediately, as it's not easy to be a woman working for Nuts and Bolts. It seems 'Fake It Till You Make It' may be a good motto for the heroine to live by, especially working for a male dominated company. Will working alongside Tate and helping with the charity construction project be good for her career?
As for the dialogue, I enjoyed every interaction between the hero and heroine because it's palpable that they don't really hate each other. Indeed, there's plenty of chemistry bouncing between them, even when they're being so unfriendly towards each other. I also enjoyed the pair working on the charity construction project together, as it gives the pair a chance to show they have what it takes to work together well and make the project the best it can be.
"I was very into sticking to my guns and living out my convictions at that age."
"Are you different now?"
"Yes. Not everything needs to be a powerful statement about character or society or whatever. Sometimes, things are the way they are and nothing more." My words are strangely relevant in this moment. We have a hell of a hostile past, but right now, we're content. Just two people on a date, enjoying the company of each other in the presence of win and cupcakes.
With the main characters, Emmie is a fantastic heroine with a very interesting back story. She's hard-working, has plenty of integrity, sticks to her convictions and I loved how resilient she is.
She isn't afraid to ask for what she wants, which I loved when she did towards the end of this story because she and Tate work so well together. While Tate, he was a really fascinating hero. He's a hard-working guy with lots of love for his family and I liked that he took a chance on a relationship with Emmie because they're good for each other. I also liked his determination to help the heroine when he believes she needs it and that he isn't afraid to say what's on his mind when he's around the heroine. She really gets to him in ways no one else ever has.
Overall, this story was a delightful debut by Ms. Smith where enemies find their happy ever after by being forced to work together. The way this story ended had me smiling because these two accomplish so much both personally and professionally and deserve every success. Then again, there's also the big surprise the hero has for the heroine that had me smiling long after I finished this story because he makes Emmie so happy with the surprise he has for her. I would recommend Faker by Sarah Smith, if you enjoy the enemy to lovers trope or books by authors Jen DeLuca or Andie J. Christopher.
Book Info:

Publication: October 8th, 2019 | Berkley Publishing Group |
Emmie Echavarre is a professional faker. She has to be to survive as one of the few female employees at Nuts & Bolts, a power tool company staffed predominantly by gruff, burly men. From nine to five, Monday through Friday, she's tough as nails–the complete opposite of her easy-going real self.
One thing she doesn't have to fake? Her disdain for coworker Tate Rasmussen. Tate has been hostile to her since the day they met. Emmie's friendly greetings and repeated attempts to get to know him failed to garner anything more than scowls and terse one-word answers. Too bad she can't stop staring at his Thor-like biceps…
When Emmie and Tate are forced to work together on a charity construction project, things get…heated. Emmie's beginning to see that beneath Tate's chiseled exterior lies a soft heart, but it will take more than a few kind words to erase the past and convince her that what they have is real.