Faking It by Stefanie London is a fun, sexy romance about a couple working undercover who discover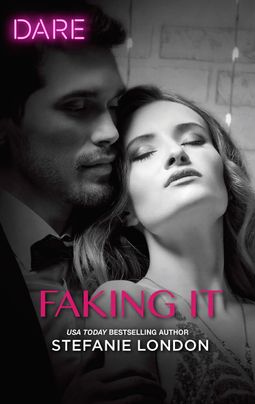 that being fake newlyweds can be complicated when underlying attractions reappear.
Owen and Hannah were in the police academy together in Australia, but their paths took different directions with Hannah becoming a detective in Victoria but Owen eventually ending up working in private security halfway across the world in New York City. Hannah still cringes when she remembers her crush on Owen and how he rejected her proposition of a night together back in school. Imagine her surprise then, when her undercover assignment partner turns out to be Owen! He's come back to Australia by special request from his old boss, taking a leave of absence from his security firm to play 'husband' to Hannah's 'wife' in an effort to catch a jewel thieving enterprise in operation.
Time hasn't diminished Hannah's inconvenient attraction to Owen, and unbeknownst to her, it's mutually reciprocated. But Owen has dealt with so much loss in his life that he's firmly in the 'no commitment' camp. Playing at being newlyweds means they can explore their chemistry together with a time limit on their affair. But can it lead to a real happy ever after?
Fans of Stefanie London will be delighted to see that Owen, a secondary character in her Dangerous Bachelors Club Harlequin Blaze series, has finally gotten his story! With the Blaze imprint no longer in production, I'm glad to see that she was able to carry over some of the characters for cameos and Owen as a main character into the new Dare line.
Owen's definitely experienced more than his share of loss. His parents, brother and girlfriend all died in a shooting when he was a teenager, leaving him with just his grandparents and the determination not to love anyone new for fear of losing them too. Though he was attracted to Hannah in the academy, he rejected her so that she wouldn't expect more from him than he could give. Flash forward several years and now that they are pretending to be a newly married couple who can't keep their hands off each other, it's easy to let that attraction flare to life. Hannah is the one who takes charge, offering Owen the chance to experience 'marital' bliss for as long as they are playing their roles, with no expectations for the future. That's a decision that is easy for Owen to make and they share some steamy scenes together with both characters fully consenting and participating in making their partner experience passion and pleasure.
The complex where Owen and Hannah have moved into is suspected to be a transit point where an organized crime family is moving jewels in and out. Playing a wealthy couple (not an act for Owen who has lots of inherited money he can spend at will) gets them into some high flying circles that lead them deeper into enemy territory. There are some action packed scenes in the second half as the plot heats up and Owen and Hannah have to use all their wits to complete their mission.
Owen is forced to make some decisions about whether his feelings for Hannah are enough for him to consider a real future together, something she's definitely willing to pursue if he gives the word. Fortunately after a few bumps in the road they get their happy ending. Hannah is a woman who challenges Owen, who stands up for herself, and who shows Owen that being in love is worth the risks. I recommend this to readers who like adventurous and sexy reads, and if you haven't read the Dangerous Bachelors Club series they are still available so you can catch up and read about some of Owen's friends!
Book Info:

Publication: Sep 01, 2019 | Harlequin Dare | Close Quarters #1
Owen Fletcher is the most irritating man I've ever met…and the hottest fantasy I've never forgotten. I haven't seen him since he left the police force to work as a security expert in New York, but now he's back in Melbourne to help my department break up a ring of jewel thieves. The catch? We're going undercover as husband and wife.
Getting up close and personal with Owen is messing with my professional focus. I should definitely not be dreaming about running my hands through Owen's hair and kissing his smart-ass mouth. But there's a solution: a no-strings affair to get him out of my system. For one night, I'll take charge of my own pleasure and invite Owen to explore the red-hot chemistry that's threatening to combust at any moment…