In The Wonder of Now by Jamie Beck, Peyton Prescott is a breast cancer survivor. Her brother,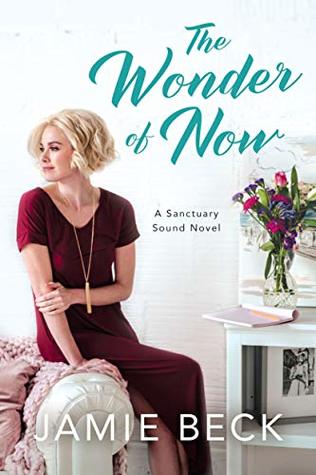 Logan, convinced her to write a book about it. The book tour takes her to Europe, with PR Mitch Mathis focused on making the book a best seller. Peyton wants to have fun while Mitch is focused on work. They are complete opposites, but will they bring out the best in each other?
Since her treatment, Peyton has been trying to be a better person. She's working on making amends with her brother's girlfriend, who happens to be an old friend that she wronged. She's trying to live life to the fullest, not wasting a moment. The last thing she wants to do is relive what happened to her, yet her brother gave her no choice when he went ahead and pushed for the book to be published.
I felt for Peyton. Not only is she doing something to make her brother happy, but she has her own body issues she's dealing with as a result of the surgeries. She's afraid to let Mitch see her naked, afraid to find out how he's going to view her scars.
At first Mitch comes across as a strict, by-the-book personality, but Peyton shows him the benefits of going off-schedule and making room to have a little fun. He admires Peyton's strength and, unlike Peyton, is not afraid or turned off by her scars. I thought he handled her worries well.
This is the third book in the series, and I haven't read the second book in the series, The Promise of Us. That book is about Peyton's brother, Logan, and her ex-friend, Claire. There are references to things that happened between Claire and Peyton that took place in that book that weren't really covered in this one. As a result, I felt like I was missing a bit of the backstory between Claire, Peyton, and what happened to them. I would recommend at least reading The Promise of Us before reading this book.
I liked how Peyton and Mitch brought out the best in one another. There were a few times I found myself annoyed with Peyton, feeling that she should have more faith in him than she did, and then there was the fact I felt like I was missing some things because I haven't read the previous book. Despite these things, I thought it was a good book about learning to live life to its fullest.
Book Info:

Publication: September 10, 2019 | Montlake Romance | Sanctuary Sound #3
Peyton Prescott would give anything for the carefree life she knew before breast cancer changed everything. But instead of using her second chance to move forward, she's stuck promoting the memoir her brother convinced her to write, thus reliving the very battle she wants to forget. If she hopes her European book tour will allow her to enjoy revisiting her favorite travel-writing destinations, she's wrong: her PR whiz is too consumed with his own goals to consider her needs.
Mitch Mathis has relied on discipline to achieve his goals, and with his new firm's success riding on Peyton's book launch, he must keep her on task. They're here for business, not pleasure. And Mitch won't let unbridled desire harm his professional reputation—not again.
When frustrated expectations and attraction throw the tour into chaos, it challenges everything Mitch and Peyton believe about themselves, life, and love, forcing these opposites to consider whether they can embrace the change they need to grow.