Fall by Kristen Callihan: Stella is bright, funny, feisty, and lonely. She has an interesting job, but she's on her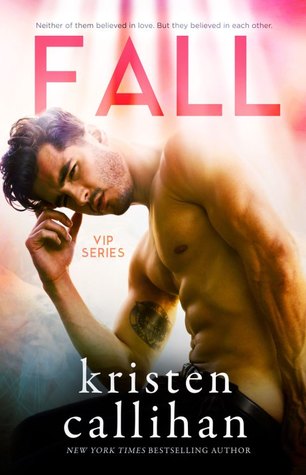 own without any family. While she may not have close ties, she finds a way to get to know and reach out to people everywhere she goes. She's outgoing, friendly, and genuinely nice.
John is an incredibly talented musician in the band Kill John. He's known as Jax to the world and his fans, including his many groupies. He's quite the playboy with an endless string of one-night stands, but the life of a rock star has lost some of its appeal. He's a really good man who struggles with the responsibility and weight of fame and expectations.
Stella is on the hunt for some much-needed food when she runs into the hottest guy she's ever seen. It's too bad she has to fight him for the last of the mint chocolate chip, but fortune favors the bold when she kisses him as a distraction. John isn't used to anyone getting the better of him or not recognizing him, so Stella definitely makes an impression.
His voice takes on a hard tone. "You got the Oreos, sweetheart. I'm taking the ice cream."
I hold my precious stash closer to my side. "And they need The Mint to be complete."
"'The Mint'?" He laughs shortly. "Are you seriously referring to ice cream as though it were some kind of superpower?"
Stella is thrilled to land her latest job and some sweet new digs. The only wrinkle is her next door neighbor is none other than the sexy stranger from the grocery store. Stella and John banter and bicker as their relationship slowly evolves into friendship. Each gives as good as they get and it's a relief for John to have someone in his life that he's beginning to trust who likes him for him. They have a friendship both value, but it's hard to ignore their sizzling chemistry without taking a risk and trying for more.
"Right. Your part of the day is done. Now it's my turn."
John visibly eases and gives me a wide grin. "Bring it, Stella Button."
"No backing out?"
He scoffs. "Please. I never back down."
Fall is an intense, emotional, funny, and sexy slow burn. Kristen Callihan created and developed flawed but endearing characters in John and Stella who will keep you engaged throughout their rollercoaster of a relationship. Ms. Callihan provided an entertaining cast of characters in the band, neighbors, chosen family, and pets who love, support, and challenge each other. Fall can be read as a standalone in the VIP series. Fans of Melanie Harlow and Katy Evans will love Fall.

Book Info:

Publication: October 23rd 2018 | Plane Jane Books | VIP #3
The first time I met Jax Blackwood things went a little sideways.
In my defense, I didn't know he was Jax Blackwood—who expects a legendary rock star to be shopping for groceries? More importantly, a blizzard was coming and he was about to grab the last carton of mint-chocolate chip.
Still, I might have walked away, but then he smugly dared me to try and take the coveted ice cream. So I kissed him. And distracted that mint-chip right out of his hands.
Okay, it was a dirty move, but desperate times and all that. Besides, I never expected he'd be my new neighbor.
An annoying neighbor who takes great pleasure in reminding me that I owe him ice cream but would happily accept more kisses as payment. An irresistible neighbor who keeps me up while playing guitar naked–spectacularly naked–in his living room.
Clearly, avoidance is key. Except nothing about Jax is easy to ignore—not the way he makes me laugh, or that his particular brand of darkness matches mine, or how one look from him melts me faster than butter under a hot sun.
Neither of us believes in love or forever. Yet we're quickly becoming each other's addiction. But we could be more. We could be everything.
All we have to do is trust enough to fall.