In Fall with Me (Wait for You #4) by J. Lynn, Roxy has had a thing for Reece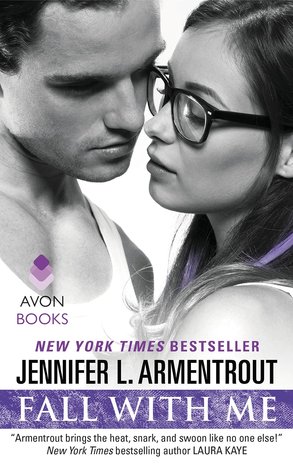 since he moved in next door to her when she was fifteen. A couple of years older than her, she could have wept when he joined the Marines and then came back to become a cop, continuing to put himself in dangerous situations. Reece was always nice to Roxy but she never believed they would have a chance at anything more than friendship. Then after a drunken night on Reece's part, they have a steamy good time. Only problem? He doesn't recall the details. But Roxy can't forget a single moment. Especially the morning after when he voices regret.
"I'm not going to fall in love with you."
Reece's grin spread into a full-fledged smile that wrapped around my heart. "Sure you're not."
Roxy has stayed away from Reece for eleven long months. She's been focusing on her college classes, her art, and visiting her childhood best friend who hasn't been doing well after suffering head trauma six years ago. When strange things start to happen in her apartment shortly after a criminal is paroled, Roxy worries he may be the one messing with her. But as she and Reece start over in their relationship and give things a real chance, her crazy life may create more havoc than their fledgling romance can handle.
"And there are times I question what I deserve, but we're in this together. So fall with me," he said, smoothing his thumbs along my cheekbones. "Let yourself go and fall with me, and baby, I will catch you. I will get you through this. You just got to take that risk."
A tiny artistic beauty with a penchant for wearing quirky tee-shirts. An ex-Marine-turned-sheriff's-deputy hottie. And angst. Lots of angst. Fans of the Wait for You series finally get the deets behind Roxy and Reece's stalemate in this steamy sequel.
I really dug Roxy's unconventional wardrobe and attitude in the previous installment, Stay with Me, so I've been waiting to learn more about her. And I kept wondering why she and Reece avoided each other like the plague. The answer wasn't quite what I was expecting, nor was the great chemistry between them when they began communicating again. Roxy was a bit awkward around Reece and tended to babble, which seemed quite realistic since she'd had a crush on him since she was fifteen. And he had one heck of a dirty mouth on him which was so much fun to read. *whew*
I've probably said this before about this series and about J. Lynn's writing, but I love the way she really explores the character's emotions. It's almost like reading a journal, going through each situation through their eyes, especially where this was strictly from Roxy's POV. Thankfully, though, Reece was expressive enough verbally that I didn't wonder too much what he was thinking. He was a pretty straightforward kind of guy. He was a little bossy at first, which made me question how a relationship might work, but it proved to be good for Roxy where he protected her and, truth be told, cherished her.
Something else I can count on aside from the tangible angst in J. Lynn's stories? She puts her characters through hell. Yep…they earn their HEA. Roxy's story was definitely no exception. From watching her childhood best friend wasting away in a long-term care facility, to having a stalker preying on her in her own home, there is no shortage of drama and intense moments. Sure, some of the plot I had figured out ahead of time. But that didn't take anything away from the storytelling and fun dialogue, for me at least.
If you're new to this series, feel free to hop in and start with Roxy and Reece's romance first. For fans of the series, don't worry. You'll still get a few moments with the rest of the crew from previous books. And, yes, the bromance continues between Cam and Jase! 😉
Book Info:

Published March 31st 2015 by Avon  | Wait for You #4
Eleven months ago, bartender and weird-shirt-wearing extraordinaire Roxy and Officer Reece Anders had a one night stand. Well, kind of. She's been in love with him since she was fifteen, and he wishes that night they shared never happened. She's sworn him off forever, but the past and future collide, forcing her to rely on the one man who broke her heart not once, but twice.
Her best friend since birth has been in a long-term care facility since he became a victim of a hate crime years ago, and the person who put him in there is out of prison and wanting to make amends with him and Roxy. She's not sure she has room for forgiveness in her and when she begins to receive frightening messages and is on the receiving end of escalating violence, she thinks she knows who is to blame. The man who already destroyed one life already.
But Reece isn't convinced. The threats are too personal, and even if Roxy doesn't believe him, he's not willing to let anyone hurt her. Including himself. He's already messed up more than once when it comes to Roxy and he's not going to let history repeat itself.