In Falling for Jillian (Love Under the Big Sky #3) by Kristen Proby, Zach King just flat out can't keep his mind off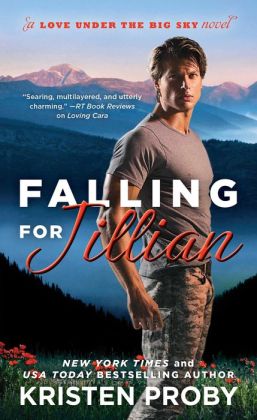 Jillian Sullivan. He's back from the military, taking care of his son Seth since his ex-wife took off, and is helping to run his family's ranch in Montana. Life should be great. And it would be, if he could get Jillian to give him the time of day. So when the opportunity comes up for Zach to make his move, he takes the chance and finds out his attraction might not be so one-sided after all. But with all of his family and personal issues along with Jillian's harrowing past, can he be the man she needs him to be?
"I want the parts of you that you refuse to give anyone else, Jill. I can't imagine anything better in this life than sharing it with you. Choosing you, every day."
Being back home near her good friends has been the respite Jillian needed after her failed marriage back in L.A.. She's not really looking for a relationship. Instead she wants to grow her real estate business. But Zach King is temptation on a stick. He has to be the sexiest guy she's ever met. And Jillian finds out all too soon that he has his sights set on her. Once they start opening up to each other and she learns of the horrors he's been through overseas, she feels a bond begin to form with him. But as she grows more and more attached to Zach and Seth, Jillian fears she'll be the one to get hurt if things don't work out.
"I'm home, and I'm safe, and that's all that matters."
"Thank God you're safe. Oh my God, Zack. I could have lost you before I ever really found you."

Kristen Proby once again delivers an insanely sexy and emotionally charged novel in the Love Under the Big Sky series. Zach and Jillian's romance was simply wonderful to behold and had me crying and laughing in equal parts.

"You are never going to forget all of the things I'm going to do to you tonight. Every inch of your amazing little body is going to feel me." My breath hitches at his words.
Just when I thought the alpha males couldn't get any hotter in this series, Zach King comes along and knocks it out of the park. I mean…he was an ex-military hero, a devoted father to his tween son Seth since arriving stateside, he runs the family ranch with his brother, and he had the most fabulous dirty mouth. *dreamy sigh* And although I really love the heroines Ms. Proby has given us so far, I think Jillian is my favorite. She was such a strong, loving, sassy woman who knew her own mind and wasn't about to take any crap from Zach. She'd been through far too much in her life already and was looking for someone who would treasure and protect her. I thought that was a very realistic dream and one that Zach, eventually, fulfilled perfectly.
As with the other books in this series, there were some hiccups along the way for Jillian and Zach. Obviously mistakes were made and theirs was a bit of a doozy. But the bond that grew between them, and especially the bond between Jillian and Seth, was remarkable to witness. I think caring so much for Seth was actually my favorite surprise in this story. He went through a lot with his mother, unbeknownst to Zach, but he persevered and ended up becoming a very thoughtful and caring young man. Although some of my favorite scenes were when Seth was just being a boy, like starting snowball fights with his dad and Jillian or playing video games and hanging out with his dog, his best buddy, Thor. So stinking cute!
Feel free to read Falling for Jillian as part of the Love Under the Big Sky series or independently. Either way, I truly hope you fall in love with Zach, Jillian, and Seth just like I did.
Book Info:

Publication: January 27th 2015 by Pocket Books | (Love Under the Big Sky #3)
From New York Times bestselling author Kristen Proby comes the third romance in the Love Under the Big Sky series, featuring a veteran struggling with PTSD and the one woman who can help him recover—and learn to love again.
Jillian thought she was a city girl through and through; the fast cars, high fashion, and glamour—she loves it all. But when her ex tells her he's having a baby with his new wife (after Jillian struggled for years to get pregnant), she hightails it back to Montana to cry on the shoulder of her best friend, Cara.
But in truth, Jillian would rather be comforted by someone else…specifically Zach, Cara's brother-in-law. Zach is a veteran of the Iraq War who came back to the family ranch to raise his preteen son after the boy's mother took off. He's struggling to re-establish a relationship with his son, and warding off the demons of PTSD, which still haunt him. The last thing he needs is bold, brassy Jillian…but why can't he keep his hands off her?