An Affair Downstairs by Sherri Browning: Fans of Downton Abbey will love "An Affair Downstairs." Set in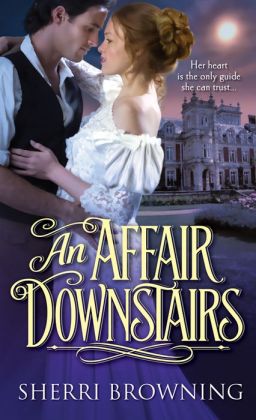 Edwardian times, it's the dawn of the automobile, telephones, and women's rights. A somewhat unusual setting for a historical novel, since the Edwardian doesn't get as much as attention as the Regency, Sherri Browning's novel recreates the era with descriptive prose that seems to take the reader back in time.
Lady Alice Emerson is a headstrong young woman who wants to take control of her destiny. Unhappy with the suitors that her titled sister has been presenting to her, she is biding time until she is old enough to take control of her inheritance, and travel the world. In the meantime, she has a mad crush on her brother-in-law's estate manager. Logan Winthrop is the disgraced younger son of a baron, and due to his disgrace and suspicions of murder, he has distanced himself from his family and works diligently as an estate manager. However, he has also noticed Lady Alice, and finds her infinitely appealing. Although he knows that he should avoid her at all costs, he is finding that increasingly difficult as she puts herself in his path at every opportunity.
He'd made a new life for himself at Thornbrook Park. No longer was he a gentleman's son, free to court gentlemen's daughters. Lady Alice made him want to forget, but it wouldn't do to allow himself the liberties he wanted to take with her, a breath of fresh air in his otherwise dreary life.
There are many bumps in the road to true love and happiness ever after. Her sister has ambitious plans for her, and although most of the gentlemen she meets are just boring, a few are truly dangerous. Caring friends and relatives warn Lady Alice that Logan is inappropriate, and Logan is also warned off. Of course, with Lady Alice's headstrong personality this just makes him more appealing, although she is more interested in an affair rather than a life-long commitment.
An easy read, this novel has decent prose and keeps moving along at a good pace, but I had a few problems with it overall. Steadfast and amusing in her efforts to live life as a "modern woman" (and when fending off unwanted suitors), I also occasionally found Alice a tad unlikeable, with her reckless disregard for Logan's social status and employment position. To her credit, she does make an attempt to stay away, but her efforts are fairly non-effective. Logan, however, is all a hero needs to be: manly, noble, and troubled. Although the second book in a series, I didn't feel lost at any time when reading, however the subtle references to previous books did make me curious. "An Affair Downstairs" does end on a cliffhanger, so I'm betting that will be addressed in the next novel in the "Thornbrook Park" series.
An Affair Downstairs by Sherri Browning is a wholly enjoyable book, with a solid and entertaining plot. The Edwardian setting is of interest, and references to the "modern age" and "modern conveniences" along with the "old-fashioned" emphasis on the class system help define the times. Logan and Alice are relatable protagonists whose love is worth rooting for and Alice's quest to live life as a modern woman will bring a smile to our 21st century lips.
Book Info:

Published January 6th 2015 by Sourcebooks Casablanca
The Countess of Aberford is determined to make a match for her sister, Lady Alice Emerson, but each man she brings to Thornbrook Park only inflames Alice's improper interest in unsuitable Logan Winthrop, a rugged man once accused of murdering his great rival.
Logan's determined to shelter himself from the pain of unrequited love—he knows the feeling all too well—but something about Alice stirs his desire to start living again. Though they fight their urges, the pair can only resist for so long; eventually they must choose between bowing to society's rules or breaking them…