In Falling for Mr. Wrong by Inara Scott, Ross Bencher and Kelsey Hanson meet on the day of his divorce from his wife of 10 years. The chemistry and attraction is immediate, the night that follows is hot, sexy and amazing. They both take this as a fling, a one-night thing,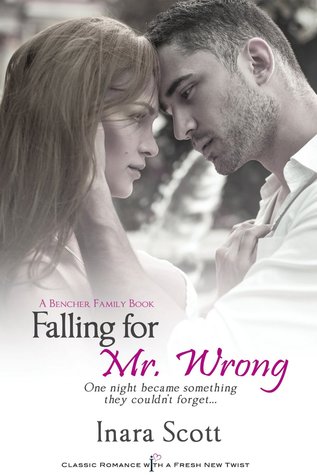 since he is town for business and she is leaving on a trip. With this in mind and knowing that they will never see each other again, they both shared their insecurities and personal stuff that they believed that they could not trust another person with.
After such a rocky marriage, Ross now has the idea that the woman he needs to marry needs to be someone like the 1950's TV mom Donna Reed, who did everything that a wife should do according to him. While Kelsey lives the life of a nomad, believing that she never wants to be married or have kids. She looks for any excuse possible to bail before any attachments can form.
Three years later Ross and Kelsey meet once again. Only neither of them expected their reunion, or the fact that they will have to work very closely together since Kelsey will be working with his three kids. Kelsey begins by being afraid of kids, only to end up mixing it up and getting really close to Ross's kids.
But their attraction from three years ago has not diminished one little bit, and it will make things difficult, for they will be unable to stay apart or stop themselves from acting on their instincts. No surface will be safe when Ross and Kelsey find themselves alone and together. (So be sure that you have a nice cool glass of water for these scenes will be scorching HOT)
Both Ross and Kelsey are very stubborn and set in their way, but they will have to find a little flexibility and compromise to be able to make their relationship work.
For a hot, sexy and sweet read, don't miss Falling for Mr. Wrong by Inara Scott.
Book Info:

November 11th 2013 by Entangled: Indulgence
Looking for Mrs. Right…
Single father of three, Ross Bencher, knows the kind of woman he wants: someone predictable, reliable, and safe, who can give his kids the security they deserve. Someone entirely different from high-altitude mountaineer Kelsey. Kelsey bewitches him with her long legs and wild passion and is about as far from his ideal as a woman can get, but try telling that to his body. Or his heart…
Falling for Mr. Wrong…
When Kelsey agreed to fill in as a temporary nanny for her best friend's agency before a big climbing expedition, she had no idea she'd be working for drop-dead sexy Ross Bencher, a man she can't seem to keep her hands off. She knows if she wants to bring herself—and her father—back alive from the Himalayan Mountains, she can't afford second-guessing, attachments, or distractions. But Ross's blue eyes and strong hands leave her gasping…and questioning everything she's ever known about love..