Naughty Little Christmas (Secrets to Hide) by Ella Sheridan is a welcome erotic addition to the holiday themed romances this season.
Indie musician and band manager Harley Fisher is the kind of woman that always looks out for everyone else but herself. When her unbalanced and thoughtless twin sister Sonny becomes pregnant, Harley drops her aspiring career to ensure that Sonny stays clean and sober so that her baby will be born healthy. Sonny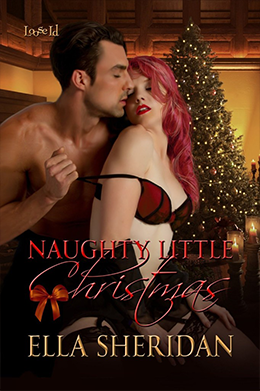 does not want her daughter, so Harley adopts Klio before she is even released from the hospital.
Successful nightclub owner Damian Adams splits his time between his three clubs located in Los Angeles, Denver and Atlanta. He is a good-looking guy and loves sex, but has no desire to be in a committed relationship. Thus, he sleeps around. He is considered the black sheep of the family because he is the only sibling not in some kind of academia. He is close to his sister Shaw, but his two older brothers are a constant thorn in his side.
Sparks ignite when Harley and Damian meet for the first time. So much so that Damian is reluctant to hire her to manage his club in Atlanta. Damian has strong rules about dating and sleeping with his employees. Luckily, their lust is too volatile to contain, and they finally give into their sexual needs. Over a very short period of time, a relationship evolves. Unbeknownst to Damian, Harley is keeping a secret that will change both their lives forever. Fortunately, the magic of Christmas and true love provides the foundation for the best gift ever.
I really enjoyed this book. I read the first book in the series and couldn't wait for the second to be released. I like how Ms. Sheridan included some of the personalities from the first book, to further exemplify the continuing friendships of the characters. Harley and Damian create amazing heat together, which caused me to step outside and take in some cold, winter, air. I felt a real connection to Harley and Damian's circumstances and reveled in their relationship.
I appreciate that Christmas time love stories include more family angst than at any other time of the year, and this one is no exception. The main characters are strong, independent, and unknowingly, looking for completeness in their lives. During this magical time of year, it just makes perfect sense that good things happen to good people and Naughty Little Christmas is a terrific example of that and more.
Book Info:

Loose id LLC (December 24, 2013) | Series: Secrets to Hide #2
Harley Fisher's life changed forever when her twin sister gave birth to a baby one month before she died. This Christmas, Harley wants her adopted daughter to have the very best gift possible: her real father. Determined to discover if Damien Adams is worthy of being a part of the baby's life, Harley forces her way into a job as the manager-in-training for his new nightclub, Thrice. Damien is blunt, challenging, and sexy as all get-out. Desiring him is wrong, but when he touches her, it's oh so right.
Damien needs a manager for Thrice so he can return to overseeing all three of his clubs. Harley's too young, too hip, too damn tempting–and perfect for the job. Wanting her violates every rule he's laid out for his life, but even the strongest convictions can falter under the mistletoe.
Harley's keeping one hell of a secret. When Damien finds out, will Harley and his daughter be the best Christmas gift he's ever received, or will her secrets leave them with nothing more lasting than a naughty little Christmas this year?