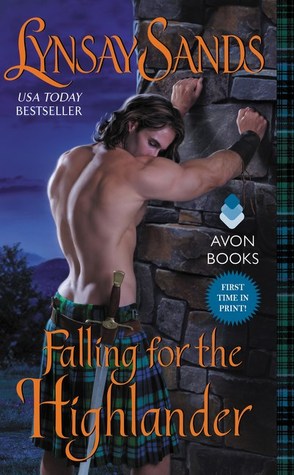 In Falling for the Highlander (Highlanders #4) by Lynsay Sands, The journey that Dougall Buchanan and his brothers took to sell a few horses didn't turn out as expected. First, his customer Montrose Danvries didn't have the coin. Then he offered Dougall his half-sister Murine in lieu of the money, which disgusted them all. And then the brothers ended up escorting Murine as she attempted to escape from her half-brother's greedy clutches. Dougall is quite sure the lass is trouble personified but he can't leave her on her own to defend herself. Especially considering she faints at the drop of a hat. Surprisingly quickly, though, Murine has the brothers–including Dougall–wrapped around her little finger and has him aching for a future with the lovely lady. If they can all make it to safety first.
'For some reason Dougall found himself with the most damnable urge to protect the lass; from her brother, from the pain of her father's decisions…hell, from the world at large. And he hadn't a clue why.'
The past few years have been devastating for Lady Murine Carmichael's family, losing several loved ones under odd circumstances. And when her guardianship was handed over to a half-brother she had rarely met but knew to be cruel, she could only hope of finding a suitable match somehow to end her plight. But Murine never dreamed Montrose would sink so low as to try to sell her to a brawny Scotsman. In her efforts to flee from her family home, she encounters the Buchanan brothers once again and is shocked by their kindness as they protect her in her travels. So when their lives all become threatened, Murine will do whatever she must to protect the men, especially Dougall, whom she has become quite attached to.
"Ye think me so light o' character that I would choose a title and castle over the man?"
"Many women would," he pointed out gently.
"Aye," she agreed grimly, pushing herself up to her hands and knees and then easing back to sit on her haunches as she spat, "But those women did no' spend a year under the thumb o' a brother who delighted in tormenting her with all she'd lost, and who would sell her to the first man who came along with something he wanted."
Falling for the Highlander was a historical romance that kept me thoroughly entertained. Written with Lynsay Sands' lighthearted humor, we watched as two kind but strong-willed individuals fell in love and solved a family conspiracy/mystery to boot.
If you've read anything Lynsay Sands has written then you know you're in for a fun, lively time when you pick up one of her books. And although this may not have had the dark, deeply emotional storyline some historicals contain, it was still exciting and certainly held my interest. But for readers who are new to Sands' work, you should know going into this to take things with a grain of salt and just sit back and enjoy the ride.
The brothers Buchanan–all SEVEN of them–kept me chuckling throughout the book. They each had their own personality of course but they shared a sense of loyalty and had that Scottish charm that never fails to make me smile. Dougall was our hero and what a great guy he was. Honorable to the core, I loved that he was put off by Murine's half-brother's attempt at selling her off to a willing party. But what had me falling for the Highlander myself was watching Dougall realize his feelings for Murine were strong and true. It took a while for him to admit it but when he did he was all in. Even though his brothers were all enthralled with his beloved themselves. Murine seemed to have that effect on them all.
I have a feeling readers might be torn about Murine. I personally thought she was smart, brave in the face of danger, and was spirited enough to handle Dougall and his brothers with relative ease. It's her propensity to faint that I think will wear on some people. I thought it added a bit of a comical edge, the way Sands wrote the scenes, and once the brothers figured out what was likely causing Murine to faint things settled down. I liked that she was also a loyal person who would do anything for her loved ones but that she could recognize when someone was using her or intended to cause her harm. Her ability to save the day (more than once!) had me cheering her on and hoping she would snag her Highlander in the process.
Adventurous and playful but with a twist of suspense added in, Falling for the Highlander was certainly not a bad way at all to spend a few hours of downtime.
Book Info:

 Expected publication: January 31st 2017 | by Avon | Highlanders #4
New York Times bestselling author Lynsay Sands welcomes readers back to the Scottish Highlands, where a gallant warrior vows to protect a beautiful runaway . . .
Lady Murine Carmichael has known her share of bad luck. But when her debt-ridden half brother tries to sell her off in exchange for a few Scottish horses, it's the final straw. If keeping her freedom means escaping through harsh countryside alone, so be it. She has barely begun her journey when she lands an unlikely escort—the brawny Highlander who just refused to buy her virtue.
Dougall Buchanan was disgusted by Lord Danvries' shameful offer, but Murine tempts him beyond measure. Even bedraggled and dusty, the lass glows with beauty and bravery. Dougall wants to do more than just help her flee. He wants to protect her—with his life and his heart—if she'll only let him. For Murine may be pursued by a powerful foe, but nothing compares to the fiery courage of a Highlander in love.