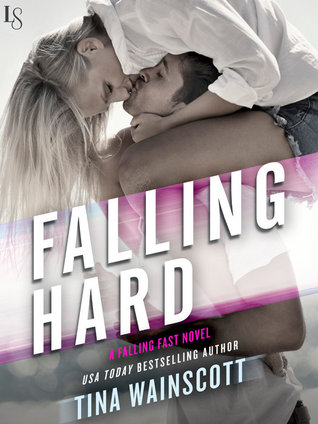 Falling Hard by Tina Wainscott: Back in high school, Pax had feelings for Gemma. Gemma had feelings for the bad boy, but opted to go out with his clean-cut brother instead, the brother she ended up accusing of date-rape. Gemma left town afterwards but years later, after her father's accident brings her back, his resentment disappears and he realizes that maybe he never hated her, after all.
You can't help but feel for Gemma. After what she went through with Blake, it seemed like the whole town turned against her. After all the years that had past, the town still treated her like a pariah, whispering behind her back and calling her names. Yet instead of hiding away in her father's B&B, she goes out about town with her head held high.
At first Pax comes across as a bit of jerk. He refuses to believe that his brother could do what he was accused of. As he puts together the pieces of what happened that night, and he realizes that maybe his brother wasn't innocent, he softens towards Gemma. He does his best to make her feel safe with him.
"Thank you," she whispered. She pressed her cheek against his chest, hearing his heartbeat. "For making me feel safe earlier, when you didn't block the doorway or hold me too tight."
"I didn't want to frighten you."
Then we get to see how sweet he is with his sister, who has Down Syndrome, and how he goes against his family to try to get them to see she can be independent. The way the rest of his family treated him was awful, and you can't help but feel bad for him.
Doing the right thing wasn't easy. He'd learned that when he quit the force because of his father's actions. Now he was quitting his family over his brother's actions.
This is the second book in the series. The first book, Falling Fast, features Raleigh and Mia. Both characters appear in this book. In this book, there are references to things that happened in Falling Fast. I haven't read that book, so at times I felt like I was missing some things. It wasn't enough to take away from the overall enjoyment of the story, but it did make me want to go back and read it to see what the characters were referring to.
With Falling Hard, Tina Wainscott has written a book that covers a difficult topic. She handled the emotional aftermath thoughtfully, showing Gemma's struggles to overcome what had happened to her. She also shows the struggles of what happens to a family when one's accused of a terrible crime and they can't bring themselves to face the truth. I recommend giving this one a read.

Book Info:

 December 8, 2015 | Loveswept | Falling Fast #2
There's no one Pax Sullivan wants to run into less than Gemma Thornton. Back in high school, she revved his heart more than street racing. But she picked his clean-cut brother over him—only to accuse Blake of an unforgivable crime. Eventually the charges were dropped and Gemma left town, but the hard feelings lingered . . . along with Pax's gnawing "what-ifs." Seven years later, just as he quits the police force to open a racetrack, Gemma's back—and their chemistry is more combustible than ever.
If it were up to her, Gemma would never lay eyes on another Sullivan. She hates them, and they hate her—even Pax, who just so happens to be fixing up her father's B&B. But the more time she spends with the lean, hard-bodied ex-cop at the inn and on the track, the more Gemma sees that Pax is nothing like his brother. Despite their anguished history, she's tempted to take their relationship into high gear . . . if she can face the past and risk her heart.