In Family for Beginners by Sarah Morgan, When florist Flora Donovan spotted handsome Jack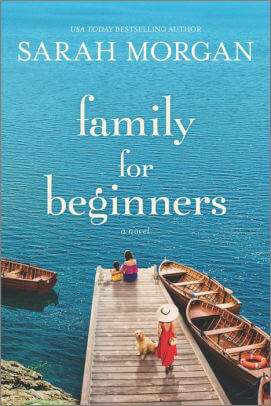 Parker looking completely lost as he stared in the shop window, she could definitely commiserate. Even living in bustling New York City, she feels alone in a sea of people. With no family and only a few friends to call her own, Flora longs for a true connection with someone. And Jack proves to be that person. Although…it's complicated. A widower who's had a year to start putting the pieces of his life back together after his wife Becca suddenly died, Jack is also fumbling with single parenthood. Seven-year-old Molly is getting there, with more good days than bad. But angsty seventeen-year-old Izzy, well, she's a whole different matter altogether.
"Ours will never be a simple relationship. And maybe I should let you go, but I'm not that selfless."
"Good." Her insides flipped… "I wouldn't know what to do with a simple relationship. Give me an emotional mess any day."
Izzy isn't sure how it happened but she has somehow become the glue holding her grief-stricken family together. But at least it gives her something to concentrate on other than losing her mother, and the grief, guilt, and anger that comes with it. Izzy has to admit it feels great for Molly and her dad to have faith in her, though. But when her father brings Flora home for dinner, she knows things are about to change. And Izzy isn't sure she can stand one more thing being taken out of her control without giving in to her anxious thoughts and worries. Growing up having to push her feelings aside, Flora recognizes Izzy's struggles. As the Parkers and Flora spend time together, in the city and on vacation in England, it's apparent they all have a lot of healing to do. But maybe, if they get past the secrets and torrent of emotions, they can become the family they're truly meant to be.
'Why had she built Flora up into a monster? She was just another person doing her best to handle what life threw at her. And life seemed to have thrown plenty.'
My heart is completely full after finishing Family for Beginners, Sarah Morgan's newest wonderfully emotional novel all about family, friendship, love, and turning over a new leaf.
'She realized that becoming a family wasn't something that happened overnight. It took baby steps, patience, understanding and a willingness to forgive when things went wrong.'
Sarah Morgan's writing always hits me right in the feels. I love that she doesn't shy away from the raw, not-so-pretty parts of relationships, which was exactly what we had in Family for Beginners. I think the title of the book is perfect and explains what this story is really all about: widower Jack and his two daughters, Izzy and Molly, were basically starting over as a family after his wife Becca died suddenly. They had to learn how to function again as a team. Plus, Jack met and fell for Flora–who had never really been part of a family before–so this was a whole new eye-opening experience for her. (Poor Flora…she didn't know what she was getting into!)
I did have a bit of a tough time getting hooked into the story, which is unusual for one of Sarah Morgan's books. I'm not sure if it was trying to understand each of the several characters and sorting out their part of the plot or if I had a book hangover from my previous read. (lol) But once I got past teenager Izzy's angst and anger and saw people-pleaser Flora begin to stand up for herself, I flew through the pages. There was such an honesty to their POVs. Morgan explained their thoughts and emotions about what was going on in their lives so clearly that I think readers will be hard-pressed to not empathize with Flora and Izzy. We also got family friend Clare's POV. I liked seeing her perspective on Izzy's mom Becca, given that they had been best friends since elementary school. It added another layer to the complicated story, showing a different side of who Becca really was.
Another poignant and heartwarming story from Sarah Morgan, Family for Beginners showed readers a rich dynamic between its relatable cast while it explored the difficulties–and rewards–of relationships, both romantic and familial.
Book Info:

Publication: Published May 5th 2020 | HQN Books |
Look for Family for Beginners, the exciting new novel from Sarah Morgan, available from HQN books May 05, 2020. Pre-order your copy today!
USA TODAY bestselling author Sarah Morgan returns with a life-affirming exploration of love, loss, and how families come in all shapes and sizes…
New York florist Flora Donovan is living the dream, but her bubbly optimism hides a secret. She's lonely. Orphaned as a child, she's never felt like she's belonged anywhere…until she meets Jack Parker. He's the first man to ever really see her, and it's life changing.
Teenager Izzy Parker is holding it together by her fingertips. Since her mother passed away a year ago, looking after her dad and little sister is the only thing that makes Izzy feel safe. Discovering her father has a new girlfriend is her worst nightmare—she is not in the market for a replacement mom. Then her father invites Flora on their summer vacation…
Flora's heart aches for Izzy, but she badly wants her relationship with Jack to work. As the summer unfolds, Flora must push her own boundaries to discover parts of herself she never knew existed—and to find the family she's always wanted.