In Fan the Flames by Katie Ruggle, firefighter and Motorcycle Club member Ian Walsh is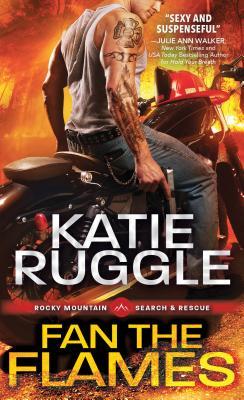 torn between his loyalty to the MC and his feelings for Rory Sorenson, the woman he has had feelings for since childhood. When members of the MC break into Rory's firearms store, Ian needs to take a stand and pick a side. At the same time, he's the main suspect in a murder he didn't commit. With Rory by his side, he needs to confront all the things that are happening in his life.
While I enjoyed the story overall, I felt it moved a bit slowly at times. Part of it was because Ian really had to take his time convincing Rory to be in a relationship with him. Rory hadn't had a normal childhood; her parents made her live in a bunker and wouldn't allow her to have friends. As a result, she's socially awkward. She doesn't know how to take Ian and his advances. She doesn't know how to handle the gift of friendship the other firefighters and rescue workers give to her. It was nice to see her eventually fight her way through her awkwardness and take an active role to help her new friends help Ian.
I liked how close most of the rescue workers were with each other and how quickly they welcomed Rory into their tight-knit family. Without her asking, they all showed up to help clean up her store after the break-in. When she needed to talk things out and couldn't talk to Ian, they all leant her an ear and helped her figure out what to do.
I would have liked to have seen a little more closure when it came to Ian and his stepfather. One minute the stepfather is taking the side of the MC, then suddenly he's defending the couple against the MC. While Rory had a talk with him, it didn't seem like enough to have him changing sides so quickly.
This is the second book in the series, and I highly recommend reading them in order. The arsonist that first appeared in the introduction novella, On His Watch, is still striking the town. The story of the body found in book one, Hold Your Breath, is continued in this book as Ian is a suspect in the murder. As there was no resolution as to who the murder actually was, it looks like it's going to continue over until the next book.
If you enjoy romantic suspense featuring a motorcycle riding firefighter and an unconventional heroine, then you should consider checking this out.
Book Info:

Published: May 3, 2016 | Sourcebooks Casablanca | Search and Rescue #2
In the remote Rocky Mountains, lives depend on the Search & Rescue brotherhood. But in a place this far off the map, trust is hard to come by and secrets can be murder…
As a Motorcycle Club member and firefighter, Ian Walsh is used to riding the line between the good guys and the bad. He may owe the Club his life, but his heart rests with his fire station brothers…and with the girl he's loved since they were kids, Rory Sorenson. Ian would do anything for Rory. He'd die for her. Kill for her. Defend her to his last breath-and he may just have to.
Every con in the Rockies knows Rory is the go-to girl for less-than-legal firearms, and for the past few years, she's managed to keep the peace between dangerous factions by remaining strictly neutral. But when she defends herself against a brutal attack, Rory finds herself catapulted into the center of a Motorcycle Club war-with only Ian standing between her and a threat greater than either of them could have imagined.