In Fatal Deception by April Hunt, Dr. Isabel Santiago's lab is broken into. The thieves take a deadly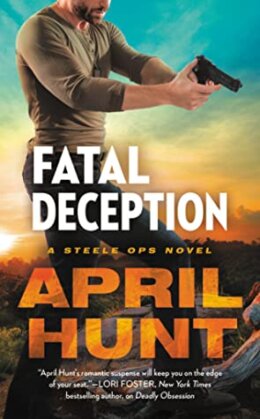 virus which has no cure, but it soon becomes clear they want Isabel as well. Roman Steele and his company are brought in to track down the virus and keep Isabel safe. When the virus is unleashed in a remote Alaskan town, the race is on to not only save the town, but to find the villains and prevent them from releasing the virus in a larger population.
Roman is grumpy and doesn't come across as friendly. Underneath it all though, he does have a caring, compassionate side. He has guilt issues related to an incident that occurred while he was in the military, which resulted in him losing his leg. Isabel herself also deals with issues of guilt from her time as a doctor in the Army. What I liked the most about Isabel was that she didn't take any of Roman's attitude. She wasn't afraid to stand up to him and to put her foot down with him when it was needed. They really balanced each other out.
This is the third book in the series, but it can be read as a standalone. I haven't read the previous two books and had no problems following along with all the characters.
Fatal Deception is a fast-paced page-turner that will have readers glued to their seats to see what happens next. Fans of romantic suspense won't want to miss this book.
Book Info:

Publication: November 10, 2020 | Forever | Steele Ops #3
Roman Steele learned a hard lesson about trusting others. While serving his country, he put his faith in the wrong person and lost a leg for his loyalty. So far, civilian life suits him—as long as he doesn't have to deal with anyone. But when he's called in to investigate a break-in at a high-security lab, he finds himself butting heads with the lead virologist, a woman as infuriating as she is beautiful.
When criminals break into Isabel Santiago's lab and steal a deadly virus, she's desperate to find the culprits before they turn her research into a weapon. But first, she must put her trust in the brooding security expert who sees danger around every corner. As she and Roman race to track down the culprits, these two unlikely partners find there's more at stake for them than they ever imagined possible—but only if they stop the enemy in time.