Too Texan to Tame by Janice Maynard is the fifth book in the Texas Cattleman's Club: Inheritance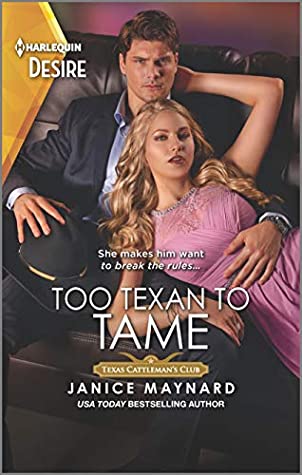 series.
Vaughn Blackwood is home for his sister Sophie's wedding. Not that he feels comfortable back in Royal, Texas. His business, Blackwood Energy Co., and yes, his whole ife, is back in Dallas. But family, his brother Kellan and sister Sophie, are important, especially after the three of them are cut out of their deceased father's will. How could he leave his entire estate to Miranda Dupree, his second ex-wife? No wonder he died alone. He was a loveless excuse of a man, a worthless father. Now Vaughn is barely back in town and everyone seems to think he needs to know that Brie is back living in Royal. Brielle Gunderson was his lover three years ago. When he started putting distance between them because, as he acknowledges now he was a self-centered, business-first jerk, Brie left. Now Brie is back in town and has opened up a veterinarian practice.
Brie argued with herself as to whether or not to give Vaughn the news. She knows she really should so the day Vaugh arrives back in Royal she goes to his sister's house to tell him. Ends up they agree to meet up the next day to have this important talk. Brie decides to take her almost two-year-old daughter Danika along to this meeting with Vaughn, the guy who doesn't know he has a daughter. This is going to be tough but Vaughn deserves to know about his daughter. And Nika deserves to meet her father. Will Vaughn just walk away or will he want Nika in his life? Only time will tell.
Ms. Maynard has written a compelling story of two people who love each other but have to admit that and work their way back together. This is a lovely second chance romance story. Brie and Vaughn are very likeable characters. Vaughn has to face facts about himself before he can be the man Brie wants. Brie has Nika now and she is the priority. How these two manage to get to their HEA is a great story.

Book Info:

Publication: April 1st 2020 | Harlequin Desire | Texas Cattleman's Club: Inheritance #5
She makes him want
to break the rules…
He's back in town…
and back in her bed?
Rancher Vaughn Blackwood is only back home in Royal, Texas, for his sister's wedding. Then he runs into Brielle Gunderson—and learns he's the father of her baby. A fake engagement would secure his newfound daughter's claim to the Blackwood legacy. But Brie has doubts about the plan even as their passion reignites. Can Vaughn change…or will Brie become the girl who got away—twice?
USA TODAY Bestselling Author