In Fatal Strike by Shannon McKenna, Miles Davenport has spent the last few months isolated, camping in the woods. Surviving a psychic attack that not only put Miles into a coma, but when he woke up he discovered his senses were so enhanced if he didn't get away from civilization he would go crazy. To overcome sensory overload, Miles creates an almost impenetrable mind shield.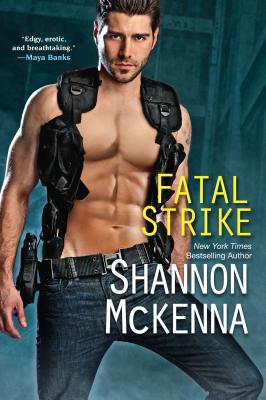 When he is sleeping though, he dreams of Lara Kirk…the woman he tried and failed to save. Everyone assumes she is dead now. But Lara is in his mind, and Miles is having some very hot, realistic dreams about her. The more she is there, texting in his shield, just being there, the more Miles is convinced is really is going crazy. He is ready to resort to medication…only to discover through various turns of events that Lara is still alive. She is being held captive somewhere, being used in psi experimentation … how much longer can she survive?
It becomes Miles' goal and determination to rescue Lara. He can't do it alone though, and will need the help of the McCloud brothers and their wives. With lives at stake and psychic warfare raging, Miles rescues Lara. Even rescued though, can Miles, Lara and the rest of the McClouds survive a very powerful psychics will to have Lara and carry out the rest of his plans? On the run but at the same time hunting their enemy, Lara and Mile's become closer and closer. The heat between them is a reality, not only in their minds. With each determined to protect the other, can they withstand the dangers and still have each other?
I have to admit that for the first portion of Fatal Strike I was quite confused. I couldn't figure out what exactly was going on, who was who, and why? I had not read any of the other books in this series, and even though they are said to be stand alone I'd highly recommend not just jumping into the middle of this series. Having said that, as Fatal Strike progressed and Shannon took us back in time in various spots, everything became much clearer and easier to follow.
All of the characters, both primary and secondary are all very strong. Lara and Miles have a lot going on, both are willing to sacrifice themselves for the other. Will it come to that? I really liked both of these people! Despite what she's gone through, Lara is strong. She doesn't want to depend on anyone or seen as weak and fragile. But sometimes you need help, and Lara finds comfort and strength in Miles. At times she was a bit frustrating, but I could understand why she was doing what she was. Miles is dead set on protecting Lara and keeping her safe in his shield. He is stronger than he realizes psychically which is a bit frightening for both Lara and him, which they will need to work through together if there is going to be anything to work through! The secondary characters and relationships that were brought into Fatal Strike from previous books in this series were a forceful, necessary presence.
Shannon gives us strong characters, drama and action that you won't soon forget in Fatal Strike. Psychic energy and mind control…is it possible? The thought of it is at times terrifying and at times fascinating – Shannon does a great job of bringing these concepts to life in Fatal Strike. Shannon's action scenes in Fatal Strike were so realistic and vivid that at times I myself was scared about what would happen next…shut the book or keep reading?!! Intermixed with all of the suspense, the heat and sex between Lara and Miles is hot and heavy, but very well written into the plot so Shannon's writing always flows so well.
I'd recommend Fatal Strike to anyone who loves paranormal romantic suspense…but I'd recommend reading some of the other books in the series before starting this one.
Book Info:

Published September 24th 2013 by Kensington
When Lara Kirk was abducted months ago, Miles Davenport vowed he'd bring her home. But the mission failed. Miles has become totally obsessed; he can practically hear Lara pleading for him to save her. Finding her after all this time will be next to impossible…Lara Kirk lives in a shadowy world where reality and fantasy are one. Her captors have poisoned her body with concoctions that enhance psychic abilities–and they seem to be working. To escape, Lara has formed a deep attachment with a man whose virile, sensual presence in her mind is her only comfort. She's not even sure if he's real–until the six-foot-five-inch powerhouse bursts in to rescue her…Once freed, Lara has no choice but to trust Miles with her life as they run from enemies too twisted to imagine. But they're also fighting a dangerous attraction that could kill–or save–them both. Either way, it's going to be a hell of a ride…