Outback Affair: An Affair Novel by Annie Seaton: Twenty-eight year old New Yorker Jessica Trent seeks and needs independence from her wealthy, interfering father. She is presently working for business mogul Larry Bartholomew, a friend of her father's, in a Public Relations job that she despises. Jessica has a degree in journalism and believes she will be truly happy if she can write food articles for a living. Additionally, some of her freelance stuff has been very successful. She also believes that if she is able to nail down an interview with Alessandro Ricardo, the elusive managing director of the extremely successful bushfood chef school and resort, she will undoubtedly snag the forthcoming writer position at Cuisine magazine.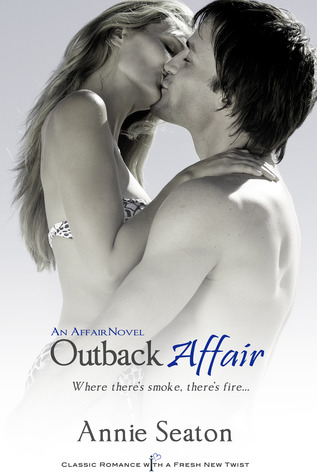 Ex-lawyer Alex Richards loves the outback and the great outdoors. He never wanted to manage people, run a school or make business decisions. However, after his fiance died, her parents founded a cooking school and resort in her memory and asked Alex to run it. He agreed to a two year contract and a silent partnership. He lives at the resort, but travels to the outback regularly to personally fish for the fresh seafood the resort serves to its customers. To the world he is known as Alessandro Ricardo.
After hours of unorganized travel, Jessica ends up miles away from her destination. Luckily, Alex the fisherman offers to give her a lift and their journey across the outback begins. Naturally, intense time together evolves into much more and their tortured pasts become less important. Reaching the resort is only the beginning of a new adventure together.
Jessica and Alex are an interesting couple and I felt their connection almost instantly. Both share the commonality of being hurt by a former lover, which is what ultimately brings them together. Jessica is a down to earth diva with a terrific sense of humor. She doesn't whine while traveling across the outback in a fishy smelling truck, with a man she just met, and his dog. Alex is an instigator and purposely tries to make Jessica feel slightly uncomfortable with her unique surroundings. He is also kind and understanding. Their banter is comical, while their chemistry is real.
There is a lot going on in the story, in addition to the outback adventure. I was particularly touched by an emotional scene involving Jessica and Alex's mom. My heart was breaking for the two of them.
I enjoyed this book, especially the Australian setting. Ms. Seaton has a wonderful way of describing the goings on in the outback, which makes the American reader feel right at home in a foreign land.
Book Info:

Publication: October 14th 2013 by Entangled: Indulgence
Jessica Trent wants to be a full-time writer for Cuisine magazine, but in order to land the gig she has to snare a one-on-one with the reclusive Alessandro Ricardo, a man hell-bent on staying out of the limelight. The last thing she expects as she heads to Crocodile Springs resort in northern Australia is to end up traveling across the Outback with a rugged and far too sexy barramundi fisherman.
Ex-lawyer Alex Richards protects his privacy and his heart in equal measure. So when a Yankee bombshell in need of a ride turns up and threatens both, he decides to teach her a lesson. As they make their way through the wild country together, the attraction between them ignites. Alex must choose between his heart or letting go of his past … and will Jessica understand why he lied once she finds out who he really is?