In Feel the Rush by Kelsie Leverich: Meagan is approaching her 30th birthday and no closer to meeting her 5 year plan than she's ever been. She's still single, living in a dingy apartment, partying with her friends, and when she does hook up with a man, he's always Mr. Bad Boy Wrong. Meagan decides it's time to change and start looking for Mr. Right. When the opportunity comes up to move with her friend Eva, Meagan decides this is a perfect time for a fresh start.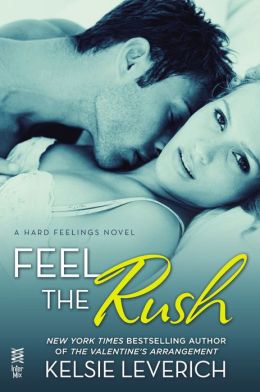 The first person Meagan runs into in their new apartment complex is Reed. Reed is completely Mr. Wrong for Meagan…Reed is an army Captain, he is all about living for the rush. Definitely not what Meagan thinks Mr. Right should be like. But Megan knows Reed and knows how good he can be too! Eight years ago she met him in a bar and they had a very memorable (well, for Meagan anyway!) one night stand. Reed initially does not remember Meagan, and as hurt as she is by that, who can blame him…a one night stand, going home together from a bar 8 years ago with someone he didn't know?!
Reed and Meagan still have that instant attraction that draws them to each other…but at this point in their life they are both driven by different desires. Reed has no desire to settle down, he lives for the adventure of life and his job. Meagan is at a place in her life where she is ready for a permanent relationship and what comes with it. Meagan knows Reed is Mr. Wrong, but she just can't resist him! They have a flirty, fun relationship, and no matter how hard Meagan feels herself falling for Reed, she doesn't see how they can possibly have a future together. But Reed is falling for Meagan too…and because they feels so good together, Meagan decides to give a relationship with Reed a try.
Meagan can't see beyond her own needs and past though, and she's not sure if she's made the right choice to give it a shot with Reed. Is Meagan willing to risk her heart on a man like Reed? When the unexpected happens, Meagan withdraws farther away from Reed, seeing what she wants to see…can she open her heart and mind and see the truth? Can both Reed and Meagan be honest about their feelings before it's too late?
Feel the Rush was a bit of a difficult book for me to get into to. It seemed that the characters, especially Meagan, were quite shallow, especially in the beginning. We were given brief flashes of background, but not a lot of specifics. I felt that it took too long for their histories to be told, histories that would have made me feel closer to the characters and understand them more. By the time we learned a bit more about Meagan, I was just too annoyed with her to really like her all that much. I think she doesn't quite trust her judgment of people, and she's trying to find what she thinks is the right thing, instead of what she wants and feels is the right thing. In most ways I found Meagan to be quite self absorbed. She wanted Reed to make all the changes to fit into what she wanted out of a man and a relationship…there wasn't a lot of flexibility on her part, and I didn't get that she took many of Reed's feelings and history into account when deciding what and who he was.
Both Reed and Meagan are honest with each other though, they know what the other wants and where they stand…at least until feelings start to change! Although I felt it took too long for the story to develop and draw me in, I get the impression that Reed and Meagan's characters have the potential to be a lot deeper than they appear. There are quite a few secondary characters in Feel the Rush, but I loved Eva best! She is Meagan's best friend and room mate, and she calls it like it is. I loved that she didn't pussy foot around Meagan, she told her how things were! I could relate better to her and Reed than to Meagan.
Feel the Rush is a nice romantic read if you're looking for a romance that is funny at times and emotional, without a lot of secondary story lines clouding the romance.
Book Info

Publisher: InterMix (August 20, 2013)
The 
New York Times 
bestselling author of 
The Valentine's Arrangement
 continues her sizzling series with a new novel of a plan that goes awry—in the arms of a soldier….Picking the wrong men is a talent Meagan Mitchell has perfected. She's sweet, confident, beautiful—and single. With her thirtieth birthday sneaking up on her, she needs a new plan. No more Mr. Wrongs or Mr. Bads. It's time to find Mr. Safe….
Army captain Reed Porter lives for the thrill—an Airborne Jumpmaster with a rush addiction. He's sexy and playful, and he quickly tempts Meagan with his rich Southern drawl and sinful looks. But slowing down and settling down are not on his agenda, making him exactly the type of man Meagan wants to avoid.…
As their undeniable attraction heats up, Meagan has to decide if she's willing to risk everything on a chance at love with a reckless charmer. Is she brave enough to bet her future—and her heart—on Mr. Thrill? Or will Reed finally learn that the feeling of a safe landing is just as addicting as the rush of the fall?