In Feliz Navidead (Santa Fe Cafe Mystery #3) by Ann Myers, Christmas should be a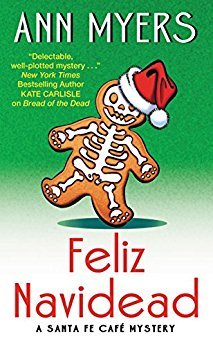 time for joy for chef Rita Lafitte and her teenage daughter Celia. Especially since Rita's mother is visiting from Illinois for a few weeks. But between her mother's complaints of altitude sickness since arriving in Santa Fe and constant suggestions about Rita's love life, she needs to find a way to distract her mother fast. Although discovering a dead body on a rooftop dressed as the devil and a bloody, deranged Santa lurking nearby was not exactly the type of distraction she had hoped for.
'In my pre-caffeinated state, I could almost imagine that the events of last night had been a bad dream. Had I really discovered a dead devil and a killer Santa?'
Rita soon begins trying to piece together what happened to Satan during the Las Posadas street play with some help from her boss at Tres Amigas, octogenarian wannabe-sleuth Flori. But when threats continue to be made, both against the three actors who are set to play the devil as well as toward herself, Rita and her boyfriend criminal lawyer Jake Strong, plus her ex-husband and cop Manny all become entangled in the strange happenings. With the safety of her daughter and mother a huge concern, Rita isn't sure if her amateur detective work is helping or is creating more problems for them all.
'…My fear was confirmed. An unknown devil killer, with an unknown motive, was still on the loose.'
With a good dose of Southwestern flair, some fantastic sounding cuisine, and a murder mystery involving Santa and Satan–yep, you read that correctly–Feliz Navidead was a lively Christmas story worth reading.
It's always fun sitting down with a cozy mystery and knowing I'll get a chuckle as well as a whodunit out of a book. And with the charming characters and their unusual holiday situation here, that was definitely true. Our protagonist Rita was a smart, inquisitive, and dependable single mom who had her hands full between her visiting meddling mother, her spirited teenage daughter, and her elderly friends. All of those characters and their larger-than-life personalities worked well together to keep the story interesting and had me laughing at the predicaments they found themselves in. Rita's boss Flori and her group of senior citizen knitting friends, the Knitters and Snitchers, had me cracking up most of all.
This being set in Santa Fe, New Mexico, meant that there was a ton of local history and of course yummy Southwestern food as part of the story. (Check out the recipes at the end of the book!) The whole Satan and Santa part of the story actually came from the play that townspeople put on every Christmas, named Las Posadas, where three devils followed Joseph and Mary's progress down the street, heckling them and getting the crowd involved. Sounds unique, but it was entertaining and created an imaginative way for the killer–who I found myself second-guessing their true identity–to go after their victims in a somewhat public way.
If cozy mysteries are your thing, then Feliz Navidead will be sure to keep your attention and make you chuckle with its offbeat characters and their holiday antics…as well as start humming a certain Christmas song every time you read the book's title.

Book Info:

Publication: Published October 25th 2016 | Avon | Santa Fe Cafe Mystery #3
Holly, jolly, and downright deadly—the third Santa Fe Café mystery unwraps surprises both naughty and nice . . . It's the most picturesque time of theyear in Santa Fe, and Chef Rita Lafitte of Tres Amigas Café hopes the twinkling lights and tasty holiday treats will charm her visiting mom. Rita is also planning fun activities, such as watching her teenage daughter, Celia, perform in an outdoor Christmas play.
What she doesn't plan for is murder.
Rita discovers a dead actor during the premier performance but vows to keep clear of the case. Sleuthing would upset her mom. Besides, there's already a prime suspect, caught red-handed in his bloodied Santa suit. However, when the accused Santa's wife begs for assistance—and points out that Celia and other performers could be in danger—Rita can't say no. With the help of her elderly boss, Flori, and her coterie of rogue knitters, Rita strives to salvage her mother's vacation, unmask a murderer, and stop this festive season from turning even more fatal.