Rich Rancher for Christmas by Sarah M. Anderson : The Beaumont family might be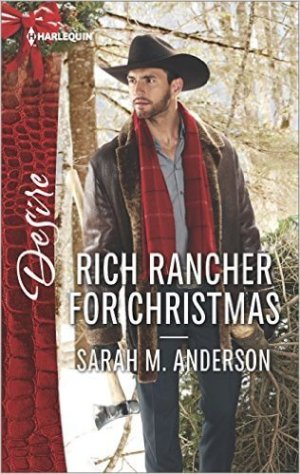 expanding but that doesn't mean that everyone is happy about the news, especially CJ Wesley. As one of Hardwick Beaumont's illegitimate children, he's stayed completely out of the limelight but knows that soon someone might come looking for him. Well, that someone does turn up, in the form of one Natalie Baker, media personality and morning show host whose tenacious digging into a story for her show has her showing up on his doorstep. It's just his luck that a blizzard arrives on her heels, leaving her stranded out on his ranch and right before Christmas too. Being the gentleman he is, CJ isn't going to turn Natalie out into the cold, but it doesn't mean he has to trust her either. But the Natalie he sees isn't the one from television – she's got flaws and vulnerabilities that aren't hidden now by any camera. And it's this woman that he finds himself suddenly very attracted to.
Natalie is desperate to keep her morning show and the only way to do so is to deliver on a promise to her boss – she'll find the missing Beaumont heir and it'll be a sensational story for her show, just what she needs to further her career. When she tracks CJ down to his country ranch and gets stuck there in a snowstorm, she soon realizes how much her story will interfere with his quiet life. As they grow closer and share things with each other, Natalie realizes that she's going to have to make a choice – her career, or a man who could be her chance at a happy ever after. What will she choose?
I'm really enjoying this series of stories about the Beaumonts and the heirs to Hardwick's fortune. This one is interesting because it focuses on one of the heirs who really has no interest in being a Beaumont or any of his inheritance. CJ grew up thinking he was the son of Patrick Wesley and only found out the truth when he was a teenager, that his mother had been involved in an affair with Hardwick Beaumont and that she'd married the man he knows as his father when he'd been a baby – a marriage of convenience that turned into one of deep abiding love. As far as he's concerned the parents he grew up with are the only ones of consequence. He's especially turned off at the idea of bringing attention and scandal to his quiet life. His feelings for Natalie are therefore pretty confusing. On the one hand he can't help that he's attracted to her as she's a beautiful intelligent woman. But she also represents a danger to his current lifestyle.
Natalie evokes a lot of empathy for her emotionally troubled childhood, including abandonment by her mother at the age of 6 for what she was told was her fault. Since then, she's had a fractious relationship with her father who still blames her for the breakup of his marriage and she's resorted to looking for outside attention to get the validation she never got as a child, no matter if it's good or bad. She's torn about what to do with CJ because she genuinely likes him as a person (and is equally attracted to him) and knows her story on him being one of the Beaumont heirs will change his life, and likely not for the better. While they are in their own little bubble, trapped by a blizzard, they can forget about the outside world and the consequences of Natalie's story, but the real world intrudes soon enough. Natalie doesn't always make the best choices, but luckily, CJ is a very understanding and compassionate man. There are some sexy scenes between this couple, and some delightful Christmas ones as well, both at the ranch and in the town that CJ calls home. In the end these two get a lovely happy ending and I look forward to reading about the next Beaumont heir.

Book Info:

Publication: Dec 01, 2016 | Harlequin Desire | The Beaumont Heirs #7
A wealthy cowboy in her stocking…
CJ Wesley values his privacy more than anything. If TV news star Natalie Baker reveals he's really a Beaumont heir, the media will go wild. That's when a surprise snowstorm strands the beautiful reporter in his house—and in his bed. Soon he'll learn how much she's discovered…and how much he wants her.
CJ defies Natalie's expectations. The gruff, sexy cowboy knows how to heat up a snowbound cabin and make Christmas magical. Exposing the elusive Beaumont brother will save her job—but only at the price of their passionate connection. It's a holiday dilemma…but will the right choice lead to forever?