In Femme Fatale (Hard Bodies #1) by Cindy Dees: 26 year-old Olivia Harper is a former TV child star trying to establish herself in film, and dissolve her squeaky clean image. She truly believes that the only way to change her public persona is to immerse herself in roles that are physical, dangerous, and sexy. Olivia's ultimate goal is to become Hollywood's next femme fatale.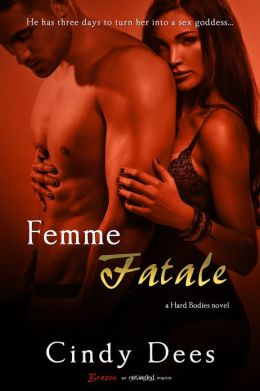 Olivia pulls upon her own life experiences when playing a role. She has led a very sheltered life, sexually speaking, and she is concerned that her naiveté will show through her acting during the love scenes. Thus, she enlists the help of Marine Major Blake Ramsey, the new hunky military consultant on the film. Blake is skeptical, but concedes to helping Olivia with her seduction techniques. Let the femme fatale lessons begin!
Blake has been ordered to lay low for a few weeks because his life is in danger, due to some misfortune with the Russians during his previous assignment. Thus, Blake's boss, who is a good friend of the film's director, is able to secure the consultant position for Blake.
To begin with, the reader is to believe that after knowing someone for a day or two, a woman would feel comfortable enough to ask for sex lessons. Secondly, the reader is to believe that the best place to safely hide a military spy is on a Hollywood film set. Thus, endangering the lives of the cast and crew. Thirdly, the paparazzi are usually lurking around popular actors, so why would you hide someone among them? Wouldn't a safe house or remote military facility be a good place to keep someone safe?
Predictably, Olivia and Blake begin to fall for each other. Their femme fatale lessons are hot and steamy. Olivia is able to use her new found skills in the film and provides a mesmerizing performance.
The Russians locate Blake and begin tracking him. Apparently on this film, the hired security, stunt people and explosive experts have some kind of military and espionage training. So, they are all qualified to ensure Blake's safety, as well as the cast and crew. Nope, not buying it.
As unbelievable as this storyline is, the writing is solid and paced well. The love scenes are hot, hot, hot! If you enjoy a spicy romance with a far-fetched plot, then Femme Fatale by Cindy Dees is the book for you.
Book Info
Publisher: Entangled: Brazen (April 23, 2013)
Former teen star Olivia Harper has a problem. If she can't shake her girl-next-door image and become the femme fatale her latest role requires, her career will flop. But with her squeaky-clean reputation, Liv's hardly been kissed, let alone had her world rocked between the sheets. There's no way she'll ask her playboy co-star for pointers, so she turns to the sexy new military consultant for some discreet…guidance.
Major Blake Ramsey is stuck babysitting actors who can't even lace their combat boots until his boss can deal with the fallout from his last mission. When Liv propositions him, he can't decide whether she's the naïve girl she claims to be or a bombshell looking for another conquest. Getting involved with the actress could blow his cover, but as the lessons heat up, Blake can't deny how badly he wants to stay in her bed—permanently. But catching the eye of the paparazzi might jeopardize both their lives…