RT13 Recap and Mega 45 Books Giveaway!
CONGRATS!

Winners: Box 1:

Kyla

, Box 2:

Shadow

, Box 3:

Joanne B

, Box 4:

Tammy YS




Please email me your mailing addresses with giveaway box #
As most of you might already know from all the teasers posted on HJ's Facebook page I attended the RT Booklovers Convention in Kansas City at the beginning of May, It was my first RT convention and it was a blast. I would highly recommend any book lover to attend RT at-least once, it is an experience to behold.
What made RT fun besides all the book giveaways was meeting some AWESOME authors ( Catherine Bybee, Julie James, Roxanne St. Claire, Megan Mulry, Jill Shalvis, Jane Graves, Jennifer Probst,  Ruthie Knox, Nicole Flockton, Maisey Yates, Lynn Harris, HP Mallory, Victoria Dahl to name a few)  and bloggers (@Inlovewromance @CaribbeanAccent @KristyWyatt @JoyfullyReviewd @Mimmibklvr @The_Book_Tart @drmgrl99dawn @bookfan747)
Here's a photo from Ellora's Cave 70's Disco Party: We got talked into this photo shoot by Sasha (@CaribbeanAccent) This was asWild as it got at RT.  Here with @NicoleFlockton, @Inlovewromance @KristyWyatt and @CaribbeanAccent –  "They" say a photo speaks a thousand words….
what happens at #RT13 stays at RT or so we thought 😉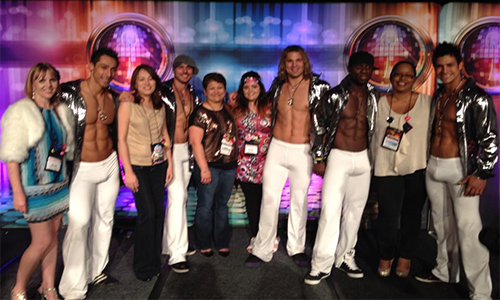 Fan Girl Moment: Yes I did have a total fan girl moment, ok … maybe two where I got all giddy and blushed liked crazy and I wasn't even drunk!;) One when I met Jude Deveraux at the signing and the other was when I met Tracey Graves Gravis (author of On the Island) for drinks.
 Here are my two most prized possessions from RT13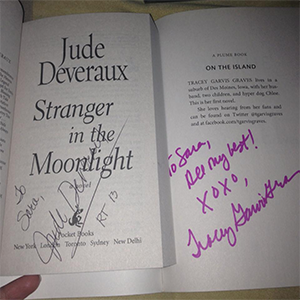 Here's an RT Tip: the bar is the best place to run into your fav authors. Make what of it you will 😉
Avon Books threw the most amazing fan party, I probably came out of there with 15 books if not more, kid you not  they sure know how to throw a PARTY for their readers. FAN-tastic Day was another fab event where there were books galore, though by this point I had to restrain myself as the reality of getting all these books home was weighing heavily on my shoulders…Well, I know better for next year (less clothes = more room for books) + I am packing an extra bag(s) 😉
While I was at the Avon Red Slipper Lounge and FAN-tastic Day I did keep you gals in mind and packed in a few extra books such that I could share it with you gals. I have 4 boxes of books to giveaway + Swag.
(There could be a few more addtions to these boxes between now and 06/15 – Just saying 😉 )
Box 1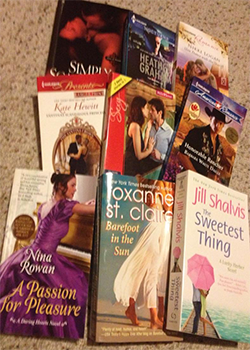 The Sweetest Thing (Lucky Harbor #2) by Jill Shalvis
Barefoot in the Sun (Barefoot Bay #3) by Roxanne St. Claire
A Passion for Pleasure (Daring Hearts #2) by Nina Rowan
Simply Scandalous (House of Pleasure #9) by Kate Pearce
Dating and Other Dangers by Natalie Anderson + The S before Ex by Mira Lyn Kelly  
Santina's Scandalous Princess by Kate Hewitt
Keeper of the Night by Heather Graham
Slow Dance With the Sheriff by Nikki Logan
A War Hero's Locked Away Heart by  Louisa George  
The Prince who Charmed Her by Fiona McArthur
Box 2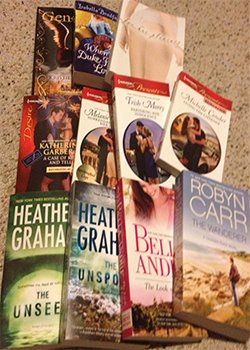 The Wanderer by Robin Carr
The Look of Love by Bella Andre
The UnSpoken by Heather Graham
The Unseen by Heather Graham
When The Duke Found Love by Isabella Bradford
Living the Charade by Michelle Conder
Bartering Her Innocence by Trish Morey
Surrendering All But Her Heart by Melanie Milburne
A case of Kiss and Tell by Katherine Garbera
The darkest of Secrets by Kate Hewitt
Suddenly Sexy by Susanna Carr
Box 3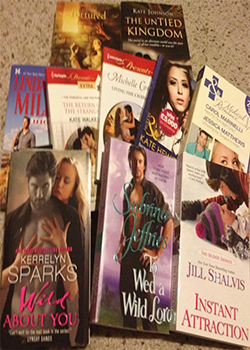 Instant Attraction by Jill Shalvis
Wild About You by Kerrelyn Sparks  
To Wed a Wild Lord by Sabrina Jeffries
Big Sky Country by Linda Lael Miller
Living the Charade by Michelle Conder  
The Return of The Stranger by Kate Walker  
Hers for One Night Only by Carol Marinelli + Unlocking the Surgeons Heart by Jessica Mathews (signed copy)
Beneath the Veil of Paradise by Kate Hewitt
The United Kingdom by Kate Johnson
Tortured by Amanda McIntyre
A Father for Her Triplets & Her Pregnancy Surprise by Susan Meier
Box 4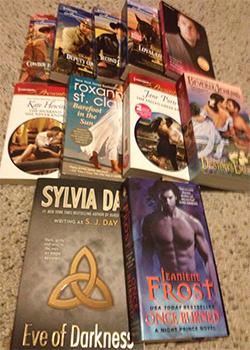 Once Burned by Jeaniene Frost
Barefoot in  the Sun by Roxanne St. Claire
Destiny's Embrace by Beverly Jenkins
Eve of Darkness by Silvia Day
The Husband She Never Knew by Kate Hewitt
The Fallen Greek Bride & At the Greek Boss's Bidding by Jane Porter
A Precious Inheritance by Paula Roe
Aidan: Loyal Cowboy  +  The Family Plan by Cathy McDavid
Tomas: Cowboy Homecoming by Linda Warren
Duke: Deputy Cowboy by Roz Denny Fox
Austin: Second Chance Cowboy by Shelley Galloway
Strictly Temporary by Robyn Grady
To enter Giveaway:
1. You must be an email subscriber of HJ blog (If you aren't already, subscribe using floating "+Follow" button on right or use "Subscribe to Blog" widget in the footer section of this page ) 
2. List the box #(s) you would like to win
3. Post a comment: Tell me how much you luv me – LOL! Ok maybe not! – Tell me who is your favorite author, an author you would absolutely LOVE to meet in person and why you love his/her books
International Readers: This giveaway is open to international readers, however due to ridiculous mailing cost for non US residents I will limit the number of books to 2 *winners choice* ( unless winner volunteers to pay mailing cost for the box) and draw another winner (US) for the remainder books.
Please note: This contest will close on Saturday, June 15, 2013 at 11:59 PM (PDT) and the winners will be notified via email and on this Post.
Thanks for being a part of the HJ Community