His Million Dollar Risk (Take a Risk #3) by Robin Bielman: Leave it to Ms. Bielman to turn a road trip down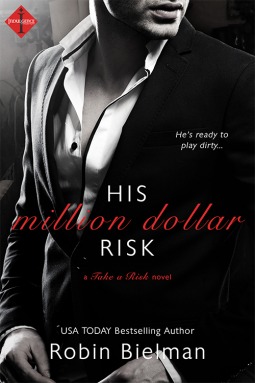 America's famous Route 66 into a sexy contemporary romance. This is a fun read with two main characters that are hot, likeable and endearing.
Connor Gibson is President of the World Heritage Fund and the preservation of historic Route 66 has been his project from the very beginning. Bringing recognition and profitability to this piece of Americana is almost in his grasp, and with the help of an in-depth article about the route in Natural World magazine, he will have met his goals. Spending a week driving around with a reporter though, is not something he wants to do, especially since he despises Natural World magazine and its belligerent publisher.
Charlize Beckett is an aspiring children's book writer and illustrator, who spends a ton of her time attempting to gain her father's approval. She works for her father's magazine as a fluff reporter and yearns to do something more substantial. Due to another reporter's emergency appendectomy, Charley gets her chance to write her first big story. She and Conner begin their trek as acquaintances and end up finding a future together. However, due to Charley's secrets, they have to weather a few bumps in the road.
The Million Dollar Risk is a hot, passionate, and touching romantic read. It is complete with desire, well-defined characters and an engaging storyline. Conner and Charley are wonderfully perfect for each other and I immediately connected to them as individuals and as a couple. They have a scorching chemistry and their ability to deal with their past and find happiness together was fun to be a part of. I especially liked their time at the carnival, relishing in Charley's excitement as she rode the Ferris Wheel for the very first time. Overall, a solid read.
Book Info:

Publication: February 9th 2015 by Entangled: Indulgence | (Take a Risk #3)
Determined to make his latest preservation project on Route 66 a success, Connor Gibson will take any good press he can get. Even if it means spending a week with a reporter. And even if it's one from a publication he has good reason to hate. Connor certainly isn't expecting a spontaneous and undeniably attractive blonde who makes him seriously hot for the press…
Charlize Beckett is in deeeep trouble. This is her one chance to prove to her publisher dad that she's a serious journalist, even if she has to pretend she's someone else. Worse though, is trying to maintain any objectivity with the way too charming Connor. She can't help but get into all kinds of sexy trouble with him. But by going off the record, Charlie is putting both her reputation and her heart on the line…