Filthy Rich by Raine Miller: Brooke is focusing on her career as an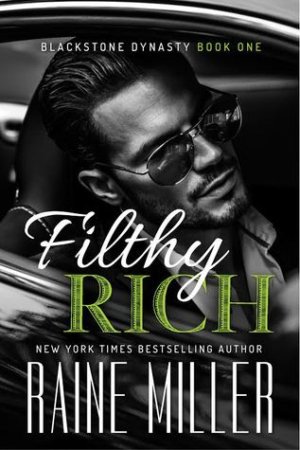 interior designer and helping her grandma by moonlighting as a waitress to help pay the bills for them. Brooke is very close to her grandma as she is the only family Brooke has and has been a necessary support system since her teens.
Caleb has taken over the reins of the family empire upon the death of his father. He's spent most of his adult life working hard and playing harder with only a string of brief affairs to show for it. His most recent attempt at a girlfriend was a spectacular disaster. He's looking for more in his life and to reconnect with his siblings.
Caleb can't quite forget the stunning and fiery Brooke. They had an interesting first meeting and she certainly made an impression. Brooke isn't looking for a relationship after her last experience, yet Caleb can be a charming gentlemen despite their differences.
"The last ferry to the island leaves at eight thirty on weeknights. Can we make it an early dinner, Caleb Blackstone?"
"We can do whatever you want, Brooke Casterley."
"Ah, you're a stalker, thanks for reminding me."
Caleb knows that he's meet his match in Brooke with her intelligence, determination, and giving nature. He's determined to win her over and sweep her off her feet using whatever means necessary to ensure that he gets the girl. It's not long before Caleb's combination of sweet, charming, respectful yet alpha and protective demeanor begins to weaken her defenses. They have great chemistry that neither can ignore.
"What do you want to do tonight?" he asked after a moment.
"Thank you for asking," I paused, "because it saves me from having to tell you what we are doing tonight."
He laughed. "That's my girl using her wicked British wit on my again. I'd tickle you senseless if you weren't driving this ancient vehicle right now."
Filthy Rich is an erotic and engaging story set in the wealth and privilege of the Blackstone family. Raine Miller continues to deliver strong characters with tie-ins to other books and a heartwarming secondary storyline. Ms. Miller provided a strong start to a promising new series with intriguing hints for what the next book holds in store. Fans of R.K. Lilley, Roni Loren, and Lorelei James will enjoy Filthy Rich.

Book Info:

Publication: Expected publication: November 15th 2016 | Montlake Romance | Blackstone Dynasty #1
Billionaire Caleb Blackstone lives in the glamorous world of wealth and success, with every material luxury. But the moment he sees Brooke Casterley, none of that matters. Caleb is filled with a raw, undeniable need that he can't ignore…for a girl who is so completely different from everything and everyone he's ever known.
Only Brooke isn't looking for love. She knows all too well just how much damage the wrong guy can do. Still, what sane, broke British girl can resist the charms of an incredibly sexy, chivalrous billionaire? What starts as flirtation quickly turns into all-consuming passion. Nothing could have prepared her for the searing heat of Caleb's touch—or just how much she craves him.
Their whirlwind romance is the stuff of high-society fantasy—but for every moment of pleasure, there is a cost. Past mistakes and tragedy shadow them both…and falling for him might be the kind of trouble she can't afford.