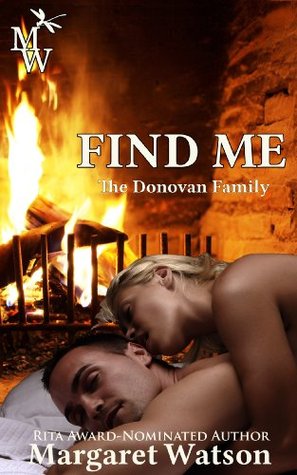 Find Me by Margaret Watson took me right into heart pounding action and didn't let me go! This was a great start to Find Me – I felt like I was thrown into the plot right along with Lizzy.
Lizzy is a likable, admirable heroine. She tries to do the right thing despite her fears and trust issues. Because Margaret did a great job of building her character, I could understand Lizzy and her reaction to the situation she suddenly found herself in. I really wanted Lizzy to be safe, but I also wanted her to be able to live her life without fear. I liked how Margaret worked up to this and how the plot played out. Mac is a solid hero also. An FBI agent who is mesmerized from the first time he sees Lizzy, he can't let it go when she disappears. He believes in the good and doing the right thing. He also believes in the people he works with. I liked Mac, and I could understand his dilemma. When he finally finds Lizzy, the spark is still there…but can he trust her? Can she trust him? And most of all, can he believe in her?
There is nothing easy about this case, and I liked how Margaret kept the plot alive with a working blend of suspense and heat! I liked that in Find Me we know the who…but we don't know the why or what, or how far he will go. Find Me was an exciting, mesmerizing, fast paced read that I had trouble putting down.
It is a believable plot. Corruption exists, but there is also always more good to outweigh it.
I loved all of the secondary characters, especially Lizzy's dog and Mac's family. I felt like this was a family that I could be a part of, and I liked the connection between them all. The secondary characters add a lot of extra depth and feeling in their own special way to Find Me.
I'd recommend Find Me by Margaret Watson to any romantic suspense reader!
Book Info:
Sue| 4 Stars | HJ Recommends | No |
Publication: December 9th 2013 | Margaret Watson | The Donovan Family #3
After witnessing the murder of an FBI agent in a parking garage late one night, Lizzy Monroe meets with the FBI and agrees to work with a sketch artist. But on her way out of the office, she comes face to face with the killer – another FBI agent. She knows from experience what happens when a criminal is a member of law enforcement – cops protect their own. So when the killer shows up at her door later that morning, she knows she has no choice but to run.
From the moment he sees her, Mac Donovan is intrigued by – and in lust with – their beautiful witness. After Lizzy disappears, he spends his free time tracking her down. When he finally finds her on a remote island in the San Juans, their chemistry is explosive and the sex is even hotter. But he's hiding his identity from her. What will happen when she discovers who he really is? Will she be able to forgive his betrayal? Or will the killer find them first?