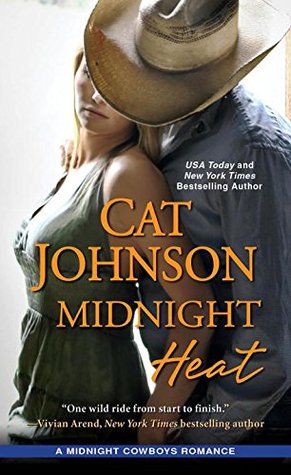 In Midnight Heat (Midnight Cowboys #3) by Cat Johnson, struggling to cope with his situation at home due to the anniversary of his brother's death, Justin Skaggs needs to get away and the perfect opportunity presents itself when his boss's fiancé, Bonnie, needs her furniture and all her other household items moved from Arizona back to the ranch in Oklahoma where she's now living. Making the trip, he arrives at Bonnie's old house to find a surprise visitor in desperate need to talk to his boss's fiancé. The thing is she won't reveal her reasons why, and Justin isn't about to give her information on Bonnie's whereabouts for free.
"You wanna tell me why you're so interested?"
"I'm just you know, interested in speaking with Ms. Martin."
"I'm getting that. My question is why? Who are you? And what has you driving all the way from California just to see her?"
Finally learning the name of her birth mother, Phoenix Montagno has decided she wants to meet the woman that gave her up. Yet, it seems her plans aren't as solid as she thought when her car breaks down and then she learns that her birth mother no longer lives in Arizona. When the cowboy she meets in Arizona offers her a ride to Oklahoma, she takes him up on it. However, spending time with Justin in his truck for fourteen hours proves difficult, especially when she finds it becoming harder and harder not to reveal her secret.
Having really enjoyed the first two books of this series by Ms. Johnson, I couldn't wait to read this one, and I've got to say that it does not disappoint. In fact, I believe it's the best book in this author's Midnight Cowboy series so far, although it took the main characters several chapters to meet and the ending felt more like a happy for now. But despite being disappointed by those two factors, this story was exceptionally engaging, fast-paced, and one I could not put down for even a second due to the main characters back stories and the heroine's urgency to meet her birth mother.
The dialogue was a nice blend of playful and intense, as Phoenix and Justin try to figure each other out since neither wants to reveal much about themselves. Then there are some moments in the dialogue that are quite emotional as well. What Justin has to deal with when it comes to his mother made me feel sorry for him. The woman has been dealing with depression for years, and it's starting to take its toll on him, as he does his best to help her. While the family reunion between Phoenix and her birth mother was wonderful, and the moment in this story that I was highly anticipating.
I really liked both main characters. It was hard not to sympathize with both their situations.
Phoenix is kind, honest and brave. Lying to her adoptive parents is extremely hard, yet I could fathom why it was necessary for her, because she knew they'd be hurt by what she was doing. It was also quite interesting to learn how much in common she has with her birth parents. While Justin, he's hard-working and loyal. He would do anything for his friends and family, so keeping Phoenix's secret once he knows is hard. Because he realizes it won't only affect Bonnie's life, but also that of his boss. However, there's an even bigger secret that once is revealed is a total shock to him, even though he realizes he shouldn't have been surprised.
"I owe you an explanation."
"No. Seriously, you—"
"Phoenix. Let me talk, please."
"Okay." She rolled her lips in, sealing her mouth shut before she lost control and interrupted him again.
"I was a dick about us. I know that." The honesty of his confession caught her off guard.
"Well, they say admitting you have a problem is the first step."
The chemistry between this couple is quite intense, and keeps getting stronger as the story progresses, evetually spilling over onto the pages through hot sex scenes. And although neither want a relationship, for reasons such as they know that a long distance relationship couldn't work and Justin's situation with his mom, it's hard for them to resist each other after all that they've been through. Justin's support of the heroine's situation means so much to her.
Overall, I was absolutely charmed by this third story in Ms. Johnson's Midnight Cowboy series, and I enjoyed how all the characters from the previous books were in it because Justin's mom made him realize that he needed more in his life and Phoenix finally got to know the family she never thought she would. I really liked how this story ended with Justin's mom finally turning her life around and Phoenix finally learning the truth of why Justin was running scared about being in a relationship with her. The truth brought them closer together, even if their relationship felt more like a happy for now, instead of a happy ever after to me.
I would recommend Midnight Heat, if you've read the other books of this series, or if you enjoy stories where a family reunion can be the start of something wonderful, for not only the main characters but the secondary ones as well.
Book Info:

 February 23rd, 2016 | Zebra | Midnight Cowboys #3
He needs to escape…
Justin Skaggs is on the road to anywhere—as long as it's far from home—when fate throws a kindred spirit across his path.
She needs to get to Oklahoma…
Phoenix Montagno can't believe her luck when she runs into the hottie from the bar. He's the key to her getting everything she's always wanted, but she can't tell him that. Luckily he's not interested in learning her story any more than he is in sharing his.
Both have secrets they don't want to share…
It's the perfect arrangement. No personal details. No talking at all. Just two strangers sharing the cab of a truck heading the direction they both need to go . . . until they decide to share a bed, too.