Finding Clarity (The Secrets Series #2) by Emma Shade: Ok, what I love most about Emma Shade's Finding Clarity is that it picks up exactly where book 1 (Finding Obscurity) left off, and if you thought that there were OMG moments in Finding Obscurity, just wait, cause you and seen nothin yet.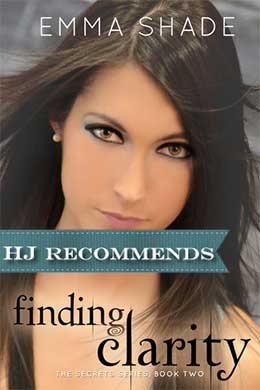 In Finding Clarity, Lily Canton is finally free and reunited with her friends and the two men that have a tight hold on her heart. (Sam, Blake, and Ashton) But on her return she is not alone. New characters have joined the fight to keep Lily safe, and the evil that is out to get Lily finally has a name and a face in that of one big, bad, angry vampire named Conrad Steele.
We finally meet the mysterious Alistair Ryder, Ashton's Vampire brother who has been missing and presumed dead for the last 50 years. It comes to light that Alistair has been charged with looking after and protecting Lily, given this job by her father himself. Reunited with his brother, we find out that Alistair was recruited to a secret group (kind of like the CIA) that has been assisting with protecting Lily.
"If you're not outside in fifteen minutes, I'll drag our out. Trust me, I'd love to do just that."
Paige, the kick~ass, hard as nails, take no prisoners, chick that we met in book 1, turns out to be one of the closest people to Lily, besides Sam. Paige pushes Lily, goads Lily, and at time slaps Lily around, but only to get her to train hard to protect herself and learn how to use her powers to their fullest potential.
Then there is Jeremy, he is an enigma. We don't know much about Jeremy at this point, only that he is the one that recruited Alistair and Paige, and that he will do anything to help protect Lily.
Blake and Ashton are still after Lily's heart, and Lily is still having a hard time committing to one or the other. Though she is fairly sure that she is in love with Ashton, she can not deny the powerful feelings that keep pulling her to Blake. But she is afraid to choose, because she know is doing so, she will have to break someones heart.
"Well hel-looo there, gorgeous. You look just like your sexy brother. What team do you bat for?"
OMG Sam! I so totally need a BFF like Sam. He loves and protects Lily in that way that only a BFF can. He is her rock, her confidant, her anchor when she feels adrift. He, with the help of Paige, step in and break up the chest beating that happens between Blake and Ashton, always reminding Lily that her heart will help her choose, and no matter what, he will ALWAYS be there for her.
Ok, so now that we know the players, let me tell you a little more about the story. Now that Lily is free, and we know that Conrad Steele is after her her friends will do anything to keep her safe. They hide her, they protect her, they help her train and push her hard, they track her movements and all the while trying to figure out Con's next move. When Sam is abducted by Con, pushing the entire group the the brink to try and get him back, it will be up to Lily to make sure that one way or another, her friend is free and Con is destroyed.
Yep you guessed it, there will be no major spoilers from me because this book is FULL of them, and there are a bunch of HUGE OMG moments in this book. If I were not hooked before, I certainly am now. I can not wait for the release of book 3 to find out how it all plays out. Will Lily choose between Blake and Ashton? What will happen with Paige and Alistair? Who is Jeremy, and what happens with Sam.
Pick up Finding Clarity by Emma Shade, I can GUARANTEE that you will NOT be able to put it down, and you will be just as hooked as I am.
Book Info:

Published November 2013 | The Secrets Series #2
Half vampire, half conjurer, Lily Canton might be the most powerful creature on earth. That is, if she could control her powers. Hunted for her unique lineage, Lily must learn to harness her abilities and fight off those who would manipulate her for personal gain.
Haunted by the memories of her horrific kidnapping, Lily struggles with her return to normalcy. If, of course, being an out-of-control conjurer could ever be considered normal. Even her love life is a jumbled mess. Ashton, the sexy vampire who first stole her heart, claims her as his mate. Yet Lily can't deny the electricity between her and gorgeous conjurer, Blake. Both men will stop at nothing to have her, but only Lily can decide to whom her heart truly belongs.
The men in Lily's life aren't her only problem though. Con, the vampire madman, is out there somewhere. He knows her secrets and he's hell-bent on revenge. When she's forced into hiding, tempers flare, boundaries are crossed, and love will be tested. But there's no place to hide when Lily's mind becomes the battlefield. Con invades her thoughts and dreams, tormenting her with a deal that could mean death. Do secrets have the power to kill? How far will Lily go to protect the ones she loves?