Finding Fortune's Secret (The Fortunes of Texas: The Wedding Gift #6) by Allison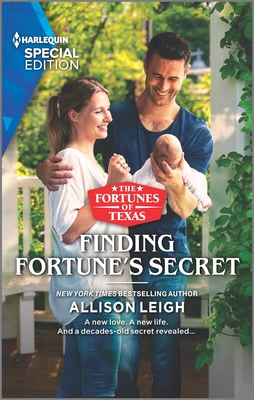 Leigh: Justin Maloney spends New Year in Miami with her friends. There, she met Stefan Mendoza, losing her virginity with him. Seventeen months later, they reunite in Rambling Rose, Texas, and Stefan finds that he's a father! In his efforts to have a full father/son relationship with baby Morgan he immediately proposes Justine, but she rejected him. In the end, he convinces Justine to live in his farmhouse, just janina a platonic relationship for the sake of the baby. Everything sounds fine on paper, but it's easier saying than doing it, especially when the attraction that drove them wild in Miami returns stronger than ever.
I have to say that Justine and Stefan's story is very pretty. What captured me was the fact that, even their first interactions may look too fast (the meeting-and-sleeping-together in a few hours thing, to be exact), this is a slow burn romance full of emotion and very credible. They're alike in some ways and dramatically different in many others; their childhoods and family situations—Stefan comes from a very supportive and loving family, while Justine…well, she had to move to Rambling Rose, away from her strict and oh-so-worried-about-what-people-would-say mother—makes them who they are, with strong personalities and high values.
With Justine and Stefan comes a variety of secondary characters that complement the plot—the Fortunes and their significant others. Speaking of that, I found the Wedding gifts thing, which is the center of the series and ties all the stories (this book is the sixth one), a bit weird sometimes; I really still don't get how they solved the mystery of the gifts. Not to mention that the last chapter and epilogue, though beautiful, give you the feeling that there're LOTS of loose ends.
Besides what I just mentioned, the writing is simple but enjoyable. The story works, thanks to the main characters and baby Morgan who, without speaking yet, he steals the show.
It's been a while since the last time I read one of Ms. Leigh's books, so I'm happy to say that this book fulfilled my expectations. A few flaws, yes, but it's worth the reading.
Book Info:

Publication: May 24, 2022 | Harlequin Special Edition | The Fortunes of Texas: The Wedding Gift #6
A new love. A new life. And a decades-old secret revealed in New York Times bestselling author Allison Leigh's contribution to The Fortunes of Texas: The Wedding Gift continuity.
"We need to get married."
Stefan Mendoza has found Justine Maloney in Texas more than a year after their whirlwind Miami romance. Now that he's learned he's a father, he wants to "do the right thing." But for Justine, a child of divorce, marriage without love is a deal breaker. Her handsome baby daddy is still sticking around, though. And simmering below the surface is a family secret that could change everything for them both—forever…
From Harlequin Special Edition: Believe in love. Overcome obstacles. Find happiness.
The Fortunes of Texas: The Wedding Gift
Book 1: Their New Year's Beginning by Michelle Major
Book 2: A Soldier's Dare by Jo McNally
Book 3: Anyone But a Fortune by Judy Duarte
Book 4: Cinderella Next Door by Nancy Robards Thompson
Book 5: A Fortune in the Family by Kathy Douglass
Book 6: Finding Fortune's Secret by Allison Leigh