In Falling Into You by Jasinda Wilder, Kyle and Nell are childhood friends turned sweethearts, who have eyes only for each other. Their love story is cut short when one stormy August night takes Kyle dies, and Nell has to be on her own for the first time in her life.Torn apart by grief and devastated by losing Kyle,Nell is totally broken and assailed by grief so strong that nobody can reach her.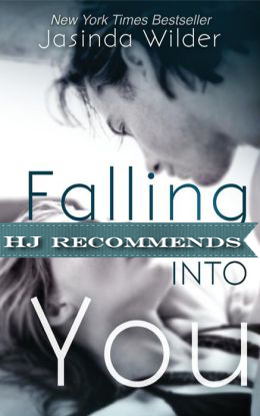 Colton has his own set of demons and a painful past.He immediately makes a connection with Nell at his younger brother Kyle's funeral and is the only person who manages to get through her defenses and truly understand her.Can two broken souls come together to be whole again..??
Jasinda Wilder has written a dark,sad and highly emotionally charged story with loads of angst.I laughed and fell in love with Nell and Kyle's love story and then cried when that love story ended in such a brutal way,after that it was mostly sadness and occasional light moments.
"I don't know how to do this. I'm scared." I'm unable to look at him,
unable to meet his eyes.
He does the thing with his fingers on my chin, tilting my face to his.
Except this time he does it and leans in, and his lips brush mine. "I don't,
either, and so am I. But if we want to live, to not be half-ghosts ourselves,
stuck loving the memory of someone who's gone, then we have to try." He
kisses me again. "We understand each other, Nelly. We've both lost
someone we love. We both have scars and regrets and anger. We can do this
together."
I breathe through the fear, the trembling, the desire to escape. "I like it
when you call me Nelly. No one has ever called me that before."
He just smiles and holds me closer.
After Kyle's death,the story started becoming angsty and the story moved its focus to Conrad and Nell's emotional, dark, sad and painful story. Music forms one of the integral part of this story and it makes a even more powerful impact. Yes,there are some light hearted and happy moments but they were not enough and I just wanted more happiness. Conrad and Nell had too much emotional baggage than I like in my lead characters and I wish they would have gotten a bigger HEA after so much of suffering.
Falling Into You by Jasinda Wilder is not for everyone and not everyone would love or appreciate it.Read this only if you like dark and emotional reads and can handle the sadness which comes along with tortured and emotionally broken characters.
Book Info

I wasn't always in love with Colton Calloway; I was in love with his younger brother, Kyle, first. Kyle was my first one true love, my first in every way. Then, one stormy August night, he died, and the person I was died with him.
Colton didn't teach me how to live. He didn't heal the pain. He didn't make it okay. He taught me how to hurt, how to not be okay, and, eventually, how to let go.
***
Nell Hawthorne is in love with her life-long best friend, Kyle Calloway. Their young love is invincible and life is full of promise; then one night Kyle dies suddenly in a tragic accident and Nell is forever changed. She meets Kyle's older brother Colton for the first time at the funeral. They both struggle to move on with life as best they can. Years later, they meet again in New York City, and Colton realizes that Nell has never really gotten over Kyle's death. She seems to be harboring a deeply rooted pain, a heavy weight of guilt and regret. He knows he shouldn't get involved, but he can't help himself. Trust doesn't come easily for either of them, and they both have demons. Together, they learn the purpose of pain and the meaning of healing, and the importance of forgiveness.