In Fire Inside (Chaos #2) by Kristen Ashley, Lanie Heron has her sights set on Chaos Motorcycle Club member Hopper Kincaid to become a pleasant distraction for the evening. She's watched him for years while hanging around Chaos with her best friend Ty-Ty and has decided to offer herself to him for the night. It's been years since her fiance Elliot was murdered after he made a deal with the Russian mob, almost getting her killed in the process, and she's finally ready to have a bit of fun with a man again. Hop resists at first but decides he can't refuse the offer after all. Unfortunately, the no-strings-attached night she wanted to leave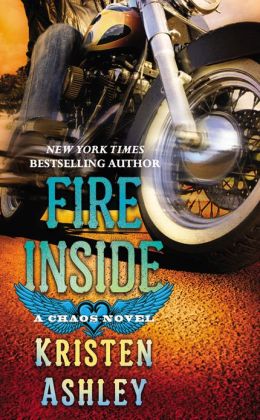 uncomplicated became heavy very quickly. Lanie and Hop spend the most incredible night of their lives together and neither are ready for it to end the next morning. Hop being the dominating badass biker he is, tells her he's not done yet so they meet up again. Then again. All the while they keep this quiet so Tack (who runs Chaos) and his wife Ty-Ty won't find out, in case things don't work as they hope.
"Him there in my office–walking toward me, bringing me lunch, being hot, smiling a smile that was sexy and all for me–he was the only thing on my mind. He was the only thing in the universe."
Things get even further complicated as Lanie tries to battle the demons from her past, including her dysfunctional childhood. The situation that led to her being shot and to the death of her fiance still messes with her mind and won't let go. Hop steps up to help her deal with the issues but she finds herself pushing him away. She knows he is being patient with her and trying harder than anyone else really ever has before, but it's all too intense. She's afraid to let him in knowing there's a chance she could get hurt emotionally again. But Hop is the most generous, sexy, giving man she's ever met. And they have the most incredible chemistry she's ever experienced in her life. Even though she can't imagine carrying on without him, Lanie doesn't know if giving a relationship with Hop a try will be worth the risk to her heart.
"She was all he could see, all he could smell, and all he could think was that she was also all he wanted to feel."
Hopper "Hop" Kincaid has been a part of Chaos for over a decade and can't think of anywhere else he'd rather be. He's noticed Lanie every time she's been around the compound hanging out with her friends but he didn't know if he could handle all her drama. Then she walks up to him that night at the party and offers him a night of passion. He wants to refuse, but finds he can't. He's drawn to her like no other woman he's met before. Hop has had previous relationships, and the one with his ex Mitzi messed with his head badly. He knows he should just leave it at one night and cut Lanie loose, but one night just isn't enough. They continue to meet up in secret, so as not to create any tension in Chaos, but Hop wants to get everything out in the open as he finds himself falling for Lanie. She's the craziest, sassiest, most beautiful woman he's ever been with and he's proud to call her his woman. He also knows, though, that they both need to slay the monsters from their pasts before they can feel solid enough to go public with their relationship. He hopes with his help, Lanie will realize what a strong woman she is and then they can build a future together.
Book two in the Chaos series by Kristen Ashley is full of raw emotions, lots of drama and intense romance. I enjoyed Hop and Lanie's story just as much as I did Tabby and Shy's in Own the Wind. I really liked how Kristen changed POV's a couple of times throughout the book, giving us a chance to see both Hop and Lanie's perspectives on their relationship. Especially with Hop…there was something about a badass biker feeling so protective and being willing to do anything to keep his woman safe. Hot! Lanie was easy to empathize with considering her childhood and the situation with her fiance. Her tirades could be hysterical though when she and Hop were together. By far, I must say my favorite scene was when they went to a local bar to see a band Hop knew. Being a huge classic rock fan myself, that just added another layer to the story that made me sigh with happiness! Definitely check out Fire Inside for a wild, sexy, fantastic ride.
Book Info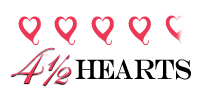 Publisher: Forever (June 4, 2013)
Lanie Heron isn't looking for love-no surprise, considering her last serious relationship nearly got her killed. So when Lanie propositions Hop Kincaid, all she wants is one wild night with the hot-as-hell biker who patrols with the Chaos Motorcycle Club . . .
For Hop, Lanie has always been untouchable. She's too polished and too classy for his taste. But when she gives Hop the once-over with her bedroom eyes and offers him a night in paradise, he can't say no. And he doesn't regret it when he finds that Lanie is the best thing that's ever happened to him-in or out of bed. Now the trick will be to convince her of that.